Teachers say they will return to work Thursday, ending three-day strike
Mar 07 2012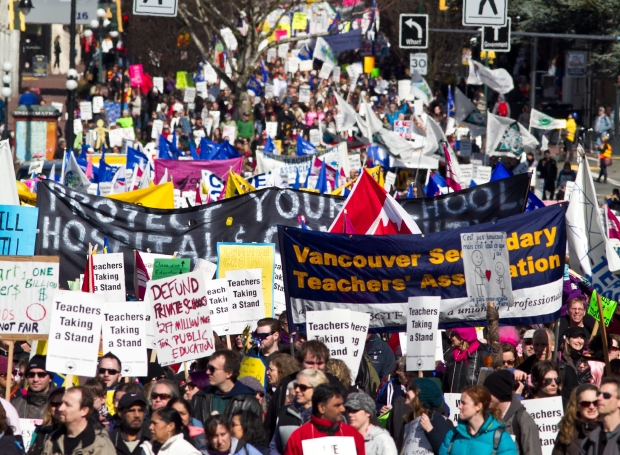 Demonstrators march down Government Street to a B.C. Teachers Federation and B.C. Federation of Labour rally at the B.C. legislature
Photograph by:
Darren Stone , timescolonist.com
Teachers plan to return to public schools Thursday following a three-day walkout against legislation aimed at ending their labour dispute with the B.C. government.
"We, right now, are on a three-day legal strike," B.C. Teachers' Federation president Susan Lambert said. "On Thursday that expires and we'll be back at school."
Lambert said teachers will resume limited job action, which includes refusing to meet with administrators, prepare report cards or supervise playgrounds.
She said teachers remain committed to fighting "dreadful" legislation, known as Bill 22, and will consider other ways to resist. "But we always give parents adequate notice."
Lambert made the comments following a rally in Victoria that drew more than 5,000 teachers and labour supporters from across the province.
The numbers swelled Tuesday morning after unionized workers refused to cross teachers' picket lines outside government buildings.
The B.C. government called the picket lines illegal, but union officials rejected that claim.
"They're legal picket lines," Mike Eso, president of the Victoria Labour Council said. "The BCTF, as ordered by the Labour Relations Board, is on a legal strike."
Government workers and other union supporters joined teachers at Centennial Square, where, just before noon, they marched to the legislature, chanting, "Hey hey, ho ho, Bill 22 has got to go" and "Kill Bill 22."
Lambert led the throng with B.C. Federation of Labour president Jim Sinclair, B.C. Government and Service Employees' Union president Darryl Walker and Canadian Union of Public Employees president Barry O'Neill.
"This is what solidarity looks like," Sinclair told the cheering crowd at the legislature. "When they attack one of us, they attack all of us."
He blasted the B.C. government for Bill 22, which, once passed, will make teachers' job action illegal, impose a cooling-off period and appoint a mediator to help the two sides reach a negotiated deal within the government's net-zero mandate.
Teachers say the legislation, if passed, will take away their rights, worsen classroom conditions and lead to further government cuts to education.
Sinclair warned that B.C.'s other unions will refuse to accept future back-to-work legislation.
"We will fight and fight until we defeat Bill 22," he said to cheers.
"Today we say to this government, we've had enough."
B.C. Premier Christy Clark dismissed the protest as irrelevant to the passage of Bill 22.
"The outcome of this is inevitable," she said. "So what happened out there today, what's happening in schools all across the province where kids are being locked out of their classrooms, it's not going to change the outcome. All it is going to do is hurt kids."
Clark stopped short of flexing her government's majority and pushing the bill into law. Instead, she blamed Opposition MLAs who "rag the puck" and delay the bill's passage.
NDP leader Adrian Dix told cheering protesters outside the legislature that every one of his MLAs will speak against the "unfair" bill. He said the legislation includes clauses that courts have already ruled illegal, and he called for an "independent" mediator to resolve the dispute.
"Someone wrote me and said, 'You know, it's exactly what I feared, you are pro-teacher,' " Dix said, prompting laughter. He said teachers work hundreds of volunteer hours and pay for textbooks out of their own pockets.
"You betcha I'm pro-teacher."
B.C. Education Minister George Abbott responded to the attacks on Bill 22 by saying that teachers are rejecting a government-appointed mediator because it means they will never get their "unreasonable" $2-billion wage increase. Teachers want a 15 per cent increase over three years and they say it will cost a quarter of what Abbott claims.
The Greater Victoria School District says average annual income for its teachers is $70,728 without benefits and $86,995 with benefits. Average income varies across the province.
ceharnett@timescolonist.com
rfshaw@timescolonist.com
We thought you might also be interested in..