Combination of failures blamed for ferry crash at Duke Point
Mar 07 2012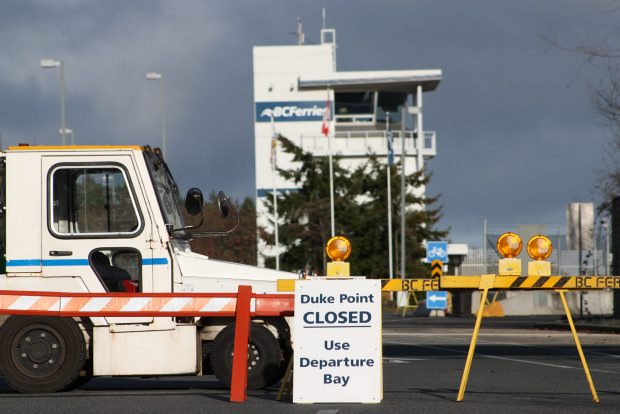 The Duke Point ferry terminal was shut down on Wednesday and would-be passengers were turned away. A Coastal Class ferry collided into its berth a day earlier, damaging the vehicle ramp.
Photograph by:
Matthew Gauk , Nanaimo Daily News
It was a combination of failures that caused the Coastal Inspiration ferry to crash into Duke Point terminal in December, according to a B.C. Ferries report released internally Tuesday.
The root cause was the failure of a crucial electronic component in the Coastal Inspiration's propulsion system which controls the pitch, said Capt. Jamie Marshall, the corporation's vice president of fleet operations, who spoke to the contents of the report, which was not released publicly.
Losing control of the pitch prevents the ferry from being able to stop, and an emergency safeguard that is supposed to override this failure also malfunctioned, Marshall said.
With only 90 seconds to respond to the emergency before the ferry hit the dock, the bridge crew did not have enough time to activate an emergency pitch control, the third backup system supposed to prevent a pitch control failure.
The crew was multi-tasking, frantically trying to determine what was wrong while sounding the emergency alarm and making an announcement to passengers and crew to brace themselves for a hard landing, Marshall said.
The crash closed Duke Point terminal, severely damaging the off-shore wing wall and removed the anchoring points from the seabed.
The terminal will be closed until April and repairs will cost $2.2 million. Marshall said insurance will cover most of the cost but did not say how much.
The Coastal Inspiration's bow doors were damaged and had to be repaired at a cost of $380,000. The ferry was back in service by late January.
The report recommended B.C. Ferries operators increase the distance from the berth before doing pre-arrival checks, which will give the bridge team more time to assess the situation and implement emergency procedures if necessary.
"We're also looking to installing a feature to better alert the operator of a failure of pitch control," Marshall said. "There was no audible alarm on the bridge to warn of the failure."
Marshall did not have a cost estimate for this.
Bridge operators will also train for this particular scenario, particularly when using the bridge simulators.
The controlled pitch constant-propulsion system is used on vessels around the world for about 70 years because it offers reduced maintenance and fuel costs. But concerns have been raised about the danger of losing control of the pitch.
This is the first time there's been a pitch failure on one of the three coastal-class ships since B.C. Ferries brought them into service four years ago, Marshall said.
The Transportation Safety Board will look at the B.C. Ferries review before completing their own report, which could take months.
kderosa@timescolonist.com
We thought you might also be interested in..