Saanich police go electric
Mar 07 2012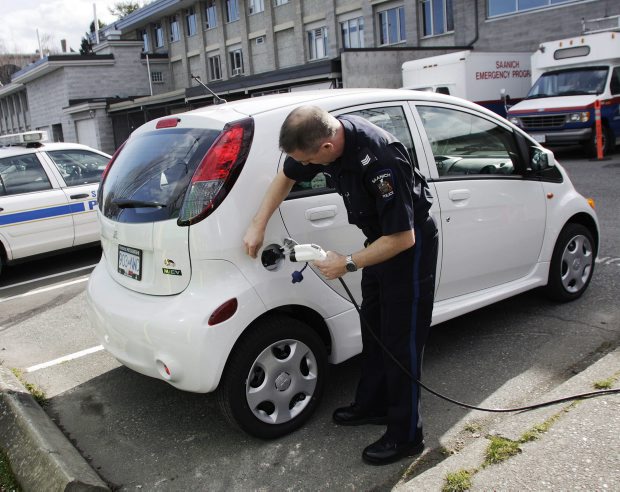 Sgt. Dean Jantzen charges a Saanich police electric car.
Photograph by:
Lyle Stafford , timescolonist.com (March 2012)
Saanich police are looking to lead the charge in bringing electric vehicles to law enforcement.
Spokesman Sgt. Dean Jantzen said it appears that the department is the first in the country to add a fully electric vehicle to its fleet - although it will be confined to administrative trips.
The department paid $32,000 for its 2012 Mitsubishi I-MiEV. Almost a third of the funds - $10,000 - came from the Saanich Carbon Fund, which is made up of contributions from municipal departments that are offsetting their greenhouse-gas production.
Jantzen said electric vehicles that are capable of being frontline police cruisers are likely still some time away.
"Patrol driving is not like other driving," he said. "Those vehicles are driven very, very hard. They have beefed-up suspensions, beefed-up braking systems, beefed-up cooling systems and beefed-up electrical systems."
The electric car, which is still without department decals or logos, has been in use for about a week. A charging station has been set up in the department parking lot at a cost of about $1,500.
The car will travel up to 155 kilometres on a single charge, Jantzen said, and has a top speed of 130 kilometres an hour. It takes eight hours to charge fully after it is depleted, but the charge is not likely to be completely used up by travel within the region, said Mark Boysen, Saanich's sustainability coordinator.
Cost per kilometre will be one-tenth that of a regular gas-powered vehicle, and Jantzen said the Mitsubishi should pay for itself within five years.
"It has been deployed into our main police vehicle fleet," he said. "It will not be used for patrol purposes but what it will be used for is secondary or ancillary purposes."
That includes several trips each day taken by members of Saanich's court-liaison section to the provincial-court registry and Crown counsel offices.
Detectives have also gone fuel-efficient, making frequent use of electric-hybrid vehicles.
Boysen said Saanich departments have been sharing the same model of Mitusbishi vehicle since last January. The car is on a three-year lease.
He said the municipality is looking at other ways to make its vehicle fleet as efficient as possible.
jwbell@timescolonist.com
We thought you might also be interested in..