Tough cop's tears of thanks
Mar 08 2012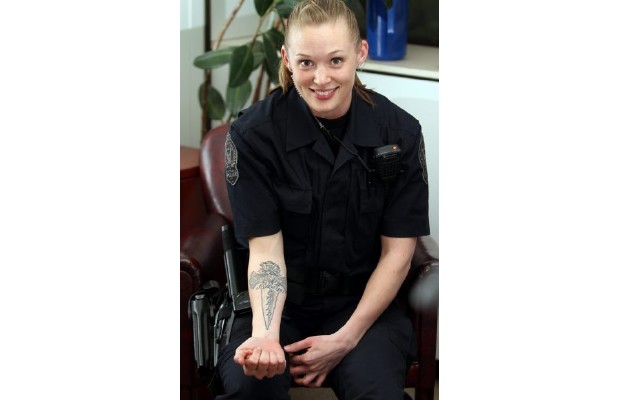 Const. Lane Douglas Hunt shows her post-attack tattoo. She nearly lost her life outside a downtown store Jan. 17, 2011, when she was stabbed by a 59-year-old man.
Photograph by:
Bruce Stotesbury , timescolonist.com (March 2012)
She may have earned the title of toughest competitor alive at the World Police and Fire Games last year, but the sight of 30 plainclothes officers filling the public gallery of a Victoria courtroom was almost too much for Lane Douglas Hunt.
The 25-year-old Victoria police officer started to cry as she took the stand at the attempted murder trial of Guy Hervé Séguin, a 59-year-old homeless man, who stabbed her in the neck on Jan. 17, 2011, outside a convenience store on Douglas Street. On Tuesday, a jury convicted Séguin.
Testifying about the attack didn't bring the tears to Douglas Hunt's eyes.
It was the incredible show of support from the police that touched a well of emotion, she said in an interview Wednesday.
During her testimony, tears filled her eyes again when she was asked to explain what the code 10: 33 - officer needs help - means. "In this situation, when I did call for help, you could literally hear the whole city moving toward me. And in a situation where your life is on the line, it's a very powerful thing - I've never experienced anything as profound as that," Douglas Hunt recalled.
The gym rat, who went to Oak Bay High, then Lambrick Park Secondary, learned about policing from her basketball coaches.
She went on a few ridealongs, then became a reserve constable.
"When you start the job and you go to calls and meet people, it really becomes a passion and if you work hard, it's something you can become really good at."
Douglas Hunt enjoys the fact that she never knows what she'll be doing from one moment to the next. "That's exciting," she said.
When she woke up with both hands in casts the morning after the attack, did she ever consider turning in her badge?
"No. Not at all. I couldn't wait to get back. I'm not going to lie to you - since this happened, my awareness is different and my perception of certain things has changed. But most people you deal with are good people. The percentage that really hate police is very small."
Does she feel more vulnerable?
"If anything, the incident proved I was in the right field, that I'm doing a job that I'm passionate about and that I feel I'm meant to do," she replied. "I'm currently living my dream right now. I love my job."
But she wears a permanent reminder of the dangers it brings. On her right forearm is a large tattoo of a knife, inscribed with the date she was stabbed, a passage from the Bible and her family's initials.
"The verse is 'Praise be to God who prepared my fingers for battle and my hands for war,' " she said.
The nerves in her injured left thumb are dead. Everything she touches feels prickly. Still, Douglas Hunt said she feels sorry for Séguin. "Without even knowing me, to try and take my life, you'd have to be in a pretty dark place."
ldickson@timescolonist.com
We thought you might also be interested in..