Teachers back in schools Thursday
Mar 08 2012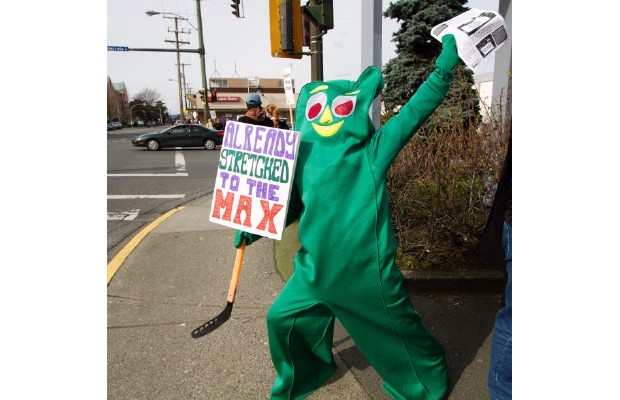 Esquimalt High School teacher Dana Bjornson dressed as Gumby to hand out leaflets on Esquimalt Road.
Photograph by:
Darren Stone , timescolonist.com (March 2012)
Striking teachers return to classrooms across the province today even as they begin voting on "next steps" in a long-running battle with the B.C. government.
Tara Ehrcke, president of the Greater Victoria Teachers' Association, confirmed Wednesday that teachers will be voting today and Friday on a new, unspecified strategy.
"I can't really provide any more details," she said.
B.C. Teachers' Federation president Susan Lambert has made clear that her union will continue to resist government legislation aimed at forcing an end to teachers' job action.
Bill 22 will make further walkouts illegal, impose a cooling-off period and appoint a mediator to try to reach a negotiated settlement.
The union says the bill will strip teachers of their bargaining rights, erase class-size limits and further erode public education.
The teachers, who have asked for a 15 per cent wage increase over three years, received approval from the Labour Relations Board to stage a three-day strike this week and one-day walkouts in each subsequent week.
The union would have to give 48 hours' notice of further walkouts.
Ehrcke said teachers spent Wednesday distributing leaflets and educating the public about the negative effects that Bill 22 will have on students and classroom conditions.
Music and band teachers voiced concern that their programs could be exempt from class-size limits of
30 students in the future.
Mark Reid, president of the B.C. Music Educators' Association, noted that the bill removes any obligation on the part of administrators to consult with teachers and opens the door to classes becoming unmanageable.
"It's made us feel as if we could become a dumping ground," he said.
Reid said he's concerned about the negative impact on beginning band classes, where students are learning to play an instrument and read music for the first time.
Similarly, Colin Plant, president of the Association of B.C. Drama Educators, said he worries about being able to teach effectively and ensure the safety of students if classes become too big.
"It scares me, the notion of having 40 or 50 in a class, and I'm hearing that from my colleagues," said Plant, who teaches at Claremont Secondary. "You just can't keep an eye on everyone."
The associations both acknowledge that large classes can be useful in some cases. But Plant, who currently teaches a musical theatre class of 55 students, said it works only because he shares the load with two other teachers. The class, which is preparing to stage The Wizard of Oz, would be impossible if he had to do it alone, he said.
Education Minister George Abbott said nothing has been finalized as to which classes would be exempted from size limits.
"We do plan to undertake a process before developing a list of classes which could arguably be larger or arguably be smaller," he said. "So I certainly welcome their thoughts on that."
It's still unclear when the legislation will pass. Premier Christy Clark has balked at shutting down debate and pushing the bill into law, preferring to blame the Opposition for delaying its passage. The NDP says it's doing its job by giving the bill proper scrutiny.
Abbott said the three-day walkout saved the government about $33 million. He said the money will remain in the education sector, though it's unclear where it will go.
Abbott said he would like to see the money added to the government's $165-million Learning Improvement Fund to assist classes with the highest needs over the next three years. School districts are slated to receive the first $30-million instalment next year.
The strike savings would "bounce it up a fair bit," he said. "But it's a fascinating discussion between accountants and lawyers about whether that can be done."
lkines@timescolonist.com
We thought you might also be interested in..