Royal Jubilee dealing with overcrowding by adding staff, opening beds
Mar 08 2012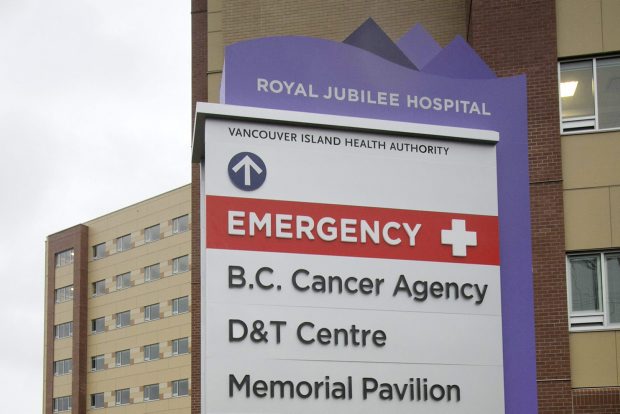 Vancouver Island Health Authority says overcrowding in the hospital's ER is common at this time of year, when the combined issues of an aging population, people with chronic diseases and seasonal illnesses, and emergencies overwhelm hospital ERs.Stat
Photograph by:
Lyle Stafford , timescolonist.com
The Vancouver Island Health Authority is opening 17 beds and adding staff to deal with overcrowding at Royal Jubilee Hospital's emergency department.
The extra beds will be opened in the new $349-million Patient Care Centre. The communications department is sending out notices about the new bed openings to staff this morning.
The Times Colonist has been reporting on the overcrowding, with nurses saying they fear for their patients and their licences due to the number of people piling up in the ER department.
This week the Times Colonist reported sunrooms, meant to serve as waiting rooms in the Patient Care Centre, are filling up with stretchers and being used overnight by patients waiting for beds.
The Vancouver Island Health Authority says overcrowding in the hospital's ER is common at this time of year, when the combined issues of an aging population, people with chronic diseases and seasonal illnesses, and emergencies overwhelm hospital ERs.
Statistics provided by VIHA show Royal Jubilee has been similarly busy in past years during the winter.
But the south Island branch of the B.C. Nurses Union says this year is the worst they've seen yet, saying they are horrified at the conditions for patients.
Royal Jubilee's sunrooms are equipped with chairs and phones for families and patients. They are not equipped with safety features such as oxygen, a call bell for assistance or suction, said Adriane Gear, south Island co-chairwoman for the B.C. Nurses Union.
Despite earlier assurances that the sunrooms — which VIHA refers to in this context as "flow-through spaces," or areas to hold patients temporarily — would only be used over the weekend as transitional spaces, hospital workers say patients were on stretchers in sunrooms throughout the weekend and overnight.
The nurses union and VIHA both confirmed that patients were in the sunrooms overnight.
"While it's rare that we have a patient in flow-through spaces overnight, it did happen over the weekend," said Shannon Marshall, VIHA spokeswoman.
"While not the ideal, it is preferable to have patients in flow-through spaces where it's quieter and safer than to nurse them in hallways in the ER," Marshall said.
The nurses' union has argued 136 beds are sitting empty in the care centre with no funding to operate them — 68 beds on the fifth floor, and 34 beds on both the fourth and seventh floors, according to the union. The rooms are fully equipped and ready — with the exception of funding.
"They have more than 100 beds," Gear said. "They have the beds, they have the capacity."
Nurses and hospital staff argue VIHA could and should open those beds. VIHA and the Ministry of Health having been standing firm, until today, that the beds are designated for future use and cannot be used at this time.
ceharnett@timescolonist.com
We thought you might also be interested in..