Homelessness among youth in West Shore spurs community leaders to action
Mar 09 2012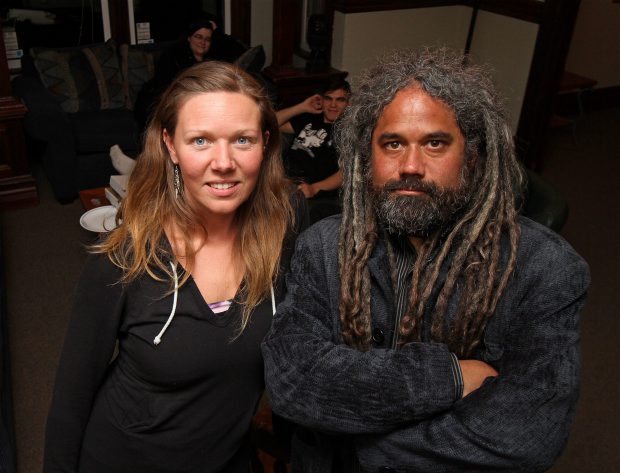 Rebekah Humphrey and Graham Kelly are mentors with the Threshold Housing Society. Concerns have been raised over the increasing number of homeles and at-risk youth in the West Shore.
Photograph by:
Bruce Stotesbury , timescolonist.com (March 2012)
The increasing number of homeless youth in the West Shore has sounded alarm bells for some community leaders looking to eradicate the problem before it gets worse.
On Monday, Langford council became the first municipality in the West Shore to endorse a housing report that identifies an immediate need to create a support network for homeless youth.
At least six to eight shelter beds, plus transition houses, are needed for youth from Langford, View Royal, Metchosin, Highlands and Colwood, according to the WestShore Youth Housing Study, produced by Elliott Urban Planning.
The problem remains mostly hidden from the public because homeless and at-risk youth carry on with their schooling or jobs without telling anyone, said Bill McElroy, chairman of the Pacific Centre Family Services Association, which provides early-intervention programs for youth between five and 18.
McElroy initiated the housing study to highlight the escalating problem of youth homelessness. He worked with several community groups and picked up a $5,000 donation from United Way to commission the report, which suggests a spectrum of housing and programs to keep youth safe.
"When a kid gets kicked out [of their home], there needs to be a place for them to go to put their head down for the night," McElroy said. "Then, we can refer them to the appropriate person to help them take the next step, which may be working with their parents, finding them a group home, finding an apartment, whatever."
Some observers say estimates from the Pacific Centre Family Services Association are low. The association's executive director, Mitzi Dean, said there is likely a need for 20 beds serving people between ages 13 and 18.
But shelters are just one component in a network of services required to address the growing problem. Transition housing — which provides stable housing for up to a year and helps youth transition to independent living — is another important part of the solution.
The report indicates that there are just 16 transition housing beds dedicated for youth in the Capital Regional District. Those units are provided by two operators in Victoria.
In a single year, Threshold Youth Housing in downtown Victoria provides transition homes for about 25 youth — up to nine at a time — between 16 and 21. In recent years, the vast majority of those youth have come from West Shore communities, staff say.
"It's an ongoing issue of services not being distributed evenly throughout the region," said Mark Muldoon, executive director at Threshold. "There has been a lot of growth in the West Shore, so there are a lot of families in stress and therefore a lot of kids in stress."
Without a plan or a range of services, the problem is expected to get worse, especially considering the West Shore's population boom is unlikely to slow soon.
"People are moving out there in droves and none of the services are moving out there with them," McElroy said. He said he has financial support from community groups and businesses and he expects, with endorsements from all municipalities and the Sooke school district, that new housing could come soon.
"We're going to have something up and going within the next few months," McElroy said. "It may not be the perfect solution, but it will be something, so the kids aren't sleeping outside."
The second and final part of the youth housing study is expected to be published in the coming weeks.
dspalding@timescolonist.com
We thought you might also be interested in..