Transit wants no rider left behind
Mar 09 2012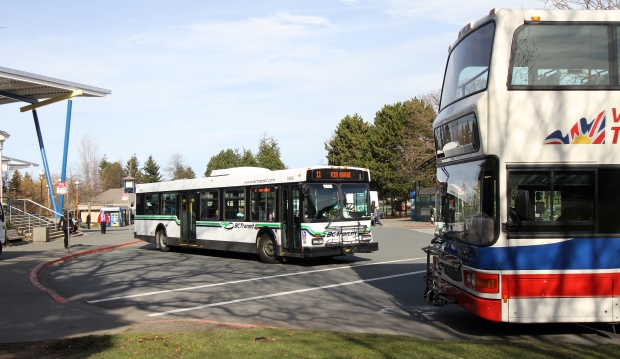 The transit bus exchange at University of Victoria is at capacity during peak times, handling 51 buses on weekdays between 8 a.m. and 9 a.m.
Photograph by:
Lyle Stafford , timescolonist.com March 8, 2012
Faced with the problem of overloaded buses not picking up passengers at bus stops, B.C. Transit wants to build a temporary exchange at the University of Victoria.
Transit officials see the additional exchange as an interim solution in advance of a longer-term plan to double the number of buses heading to and from the campus.
Students and other riders have been complaining for months about being left behind during peak morning hours because buses don't have room for them.
But simply adding buses isn't practical because the university's existing transit exchange is operating at capacity, with 51 buses rolling in and out between 8 a.m. and 9 a.m. Monday to Friday.
Transit officials announced Thursday that they want to replace the Finnerty Road exchange with a larger one. The university and B.C. Transit will study four possible locations for a new exchange, which will expand the number of bus bays to 30 from 14. Anticipated costs will not be known until a report is completed in 2014.
Until that larger project is built, B.C. Transit hopes to increase service by installing a temporary exchange along Ring Road.
B.C. Transit says it wants to boost bus frequency on all its busiest routes, including No. 4, No. 39 and No. 21. At a budget meeting this week, officials proposed increasing service by 5,000 hours annually on routes with the highest number of people being left at stops by full buses.
The Victoria Regional Transit Commission still has to approve the proposals.
Money for the additional service would come from an unexpected increase of $1.4 million in passenger revenues for 2011-12.
"We want to see double the number of riders here to the University of Victoria by 2035," said B.C. Transit spokeswoman Meribeth Burton, who said construction on the new exchange would not start until 2016. "It has to be done. It is a timely issue, but it has to be well thought out."
Improving infrastructure on campus to meet the needs of transit users is a priority, the university says. "We recognize that transit is a very important part of our transportation system here on campus," said Neil Connelly, director of campus planning and sustainability.
"Twenty-eight per cent of rides to campus are through transit, so we know with lots of bus activity .…we need to look at additional space to help serve those transit needs."
dspalding@timescolonist.com
We thought you might also be interested in..