UVic comes up with new options for parkade
Mar 09 2012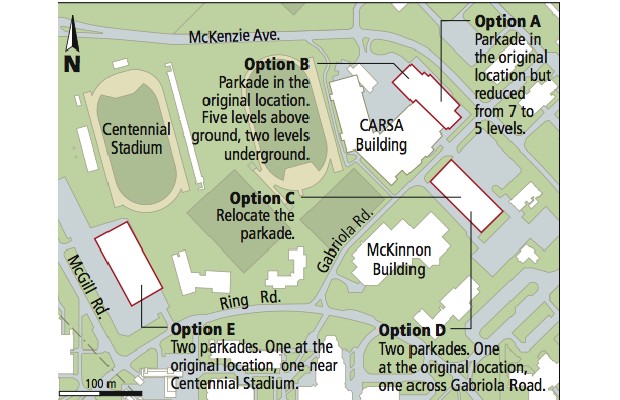 UVic parkade options
Photograph by:
. , timescolonist.com (March 2012)
The University of Victoria has scrapped its controversial initial plan for a seven-storey parkade and wants public input on five new options to provide parking for a new athletic complex.
The new options range from reducing the height of the parkade proposed for the university's McKenzie Avenue entrance, to moving it all, or in part, to another site on campus.
Open houses are being held Saturday from noon to 3 p.m. at St. Aidan's United Church, 3703 St. Aidan's St., and Wednesday from 4 p.m. to 8 p.m. at Queenswood, 2494 Arbutus Rd.
The university will use the public input to winnow the five choices down to one, which will then be presented at another round of open houses in May, said Kristi Simpson, associate vice-president responsible for campus planning.
"We're really encouraging people to come out," Simpson said.
The parkade is part of a $75-million Centre for Athletics, Recreation and Special Abilities complex.
It will include facilities for athletes, a gym with 2,000 seats, a multi-purpose field house and a climbing tower, as well as office and lab space for CanAssist, which develops technologies, programs and services for people with disabilities.
The project went to Saanich council for height and parking variances and was twice turned down because of lack of community consultation.
Council and community groups liked everything about the project, except the parkade and how the university communicated its plans to the public. Many people were concerned about the parkade's size, location, design and visual impact.
UVic has since hired a municipal planning consultancy that reviewed how the university engaged with the public and made recom-mendations on how to improve.
The five new options address the public's concern about the original parkade size, design and potential traffic impacts, Simpson said.
The options are:
? Reduce the proposed seven-storey parkade by two floors. Two storeys would be attached to the CARSA building. Cost: $17.6 million, with 353 stalls.
? Keep seven storeys but construct two storeys underground so the aboveground building height is reduced from 19.5 metres to 14 metres. Cost: $22.6 million, with 496 stalls.
? Relocate the entire parkade across the street to a lot near the McKinnon building, with no part attached to CARSA. Cost: $24.7 million, with 649 stalls;
? Two parkades: one of five storeys at the original proposed site and connected to CARSA, with a second parkade across Gabriola Road. Cost: $38.5 million, with 753 stalls.
? Two parkades: one of five storeys at the original proposed site and connected to CARSA, with a second parkade on a lot 400 metres away, near Centennial Stadium. Cost: $38.5 million, with 753 stalls.
If the more expensive options are preferred, the cost to park in them would likely be higher.
All parking lots at UVic are self-supporting operations, Simpson said. "Any capital costs have to be paid for by parking revenues."
UVic will also be looking at "visual appearance options" for the parkade.
While some people may want public art on the side of the parkade, that would mean enclosing the structure, something that often causes safety concerns, Simpson said.
People can provide input online at www.uvic.ca/carsa until March 30.
More information about the five plans is also available.
kwestad@timescolonist.com
We thought you might also be interested in..