Olympic champion rows for record with world's largest class
Mar 09 2012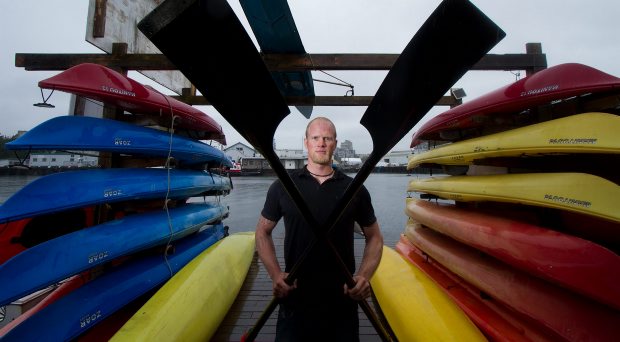 Olympian Adam Kreek hopes at least 200 people will come out to the class.
Photograph by:
Arnold Lim , timescolonist.com (Aug. 2011)
Olympic gold-medal winning rower Adam Kreek hopes to set a Guinness World Record today by staging the largest rowing class ever seen.
Kreek has joined forces with the Go Rowing and Paddling Centre on the Selkirk waterfront for the record try.
The record at the time that Kreek and his supporters applied for their attempt was 165 people. That changed when a group in Switzerland upped the ante with 191 rowing students, something that only came to the attention of Kreek's team a few days ago.
"It keeps increasing," Kreek said with a chuckle.
The Victoria event organizers are shooting for more than 200 rowers. The public is invited to come by and watch when the class starts at 4 p.m. from the Go Rowing and Paddling Centre dock off Jutland Road.
"It looks like we have room for 240 people," said spokesman Eric Pittman. "It's actually a real hour-long rowing class."
That differs from some previous efforts where organizers have used rowing machines, he said.
"Because of the size of it, it's going to be quite visual," Pittman said. He said rowers will likely stretch from the dock to beyond the Point Ellice Bridge.
People wanting to take part can call the rowing centre at 250-658-6333.
If the attempt is successful, participants will be able to get a personalized Guinness World Record certificate, Pittman said.
The rowing class has been timed to bring attention to Saturday's Victoria Paddle Festival from 1-5 p.m., centred at the Delta Ocean Pointe Resort, as well as to the organization OAR (Ocean Adventure Racing) Northwest.
Pittman said the festival came out of Kreek's vision for an event celebrating human-powered vessels. "If you zoom along in a motorboat, you miss 99 per cent of what's out there."
It will also showcase the 29-foot ocean-going rowboat that Kreek and three others will use to circumnavigate the Island. The journey, called the Salish Sea Expedition, starts April 9 at the Shaw Ocean Discovery Centre.
jwbell@timescolonist.com
We thought you might also be interested in..