Taser among missing Victoria police gear
Mar 10 2012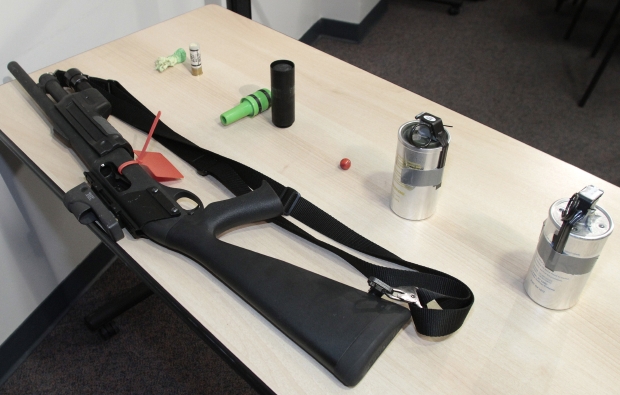 The missing police inventory includes a Remington shotgun, tear gas canisters, pepper balls, non-lethal bullets and three tactical vests, similar to the items shown.
Photograph by:
Lyle Stafford, timescolonist.com Feb. 17, 2012
Victoria police said a Taser was among the riot gear that went missing in February.
Police did not initially include the stun gun among the list of crowd management unit weapons that appear to have been stolen or misplaced.
"After talking with the investigators for the missing [crowd management unit] gear, they did confirm that a Taser is among the missing CMU equipment," Victoria police said in a statement.
The missing gear, which may have been taken from a police vehicle, includes a Remington shotgun, tear gas canisters and tactical vests. Victoria police are still investigating how the cache went missing.
The department was red-faced again in February when Chief Jamie Graham admitted he left his loaded handgun under the seat of his car. It was found by officers looking for the missing riot gear.
Graham was given a written reprimand.
We thought you might also be interested in..