School board calls for independent mediator to settle dispute with teachers
Mar 10 2012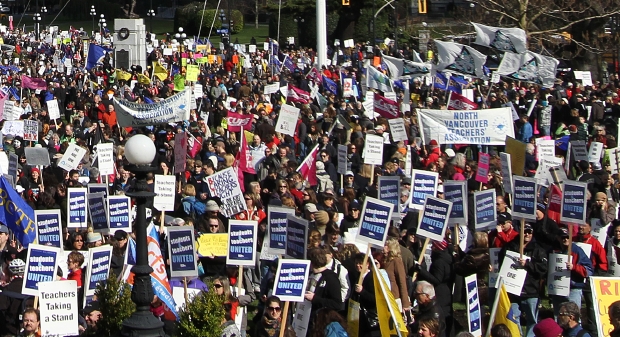 B.C. teachers went on strike for three days this week. On Tuesday, they rallied at the legislature
Photograph by:
Adrian Lam , timescolonist.com March 6, 2012
The Greater Victoria board of education has called for an independent mediator in the labour dispute between teachers and the B.C. government.
In a letter to Education Minister George Abbott, board chairwoman Peg Orcherton stresses the need to resolve the impasse in a way that satisfies both sides.
"It is unreasonable to expect that each of our stakeholders will be able to return and provide our students with the full experience of school simply by legislating an agreement," Orcherton writes on behalf of the board.
"It is for this reason that the Greater Victoria board of education is asking you to appoint an independent mediator."
The province's 41,000 teachers have been without a contract since last June. They began pressing their demands for a new contract in September by refusing to write report cards or meet with administrators.
They walked off the job for three days this week in opposition to government legislation that will force an end to job action, impose a cooling-off period and appoint a mediator chosen by the government. Under Bill 22, the mediator would have to find an agreement within the government's net-zero mandate, which means the total cost of the teachers' contract would have to stay the same.
The B.C. Teachers' Federation, which wants a
15 per cent wage increase over three years and improved benefits, says the mediation process is rigged in the government's favour.
Orcherton said in an interview that a mediator, agreed to by both parties, would remove any impression of bias. She said the board's letter is in keeping with trustees' desire to work with teachers and achieve an amicable settlement.
Diane McNally, who made the motion to send the letter, said mediation, as proposed in Bill 22, tips the scales against teachers.
"I'm suspicious that a mediator appointed by one party, right off the bat, doesn't seem fair," she said.
Abbott said this week that government has yet to decide whom to appoint as mediator, and welcomes any suggestions.
"Obviously, the choice of mediator is going to be a very important one in this instance," he said.
"There's a lot of opportunity that has been placed in the hands of the mediator and, obviously, we'll want someone who's very knowledgeable and very skilled to try and deliver on that."
lkines@timescolonist.com
We thought you might also be interested in..