Province to consider local control for transit system
Mar 10 2012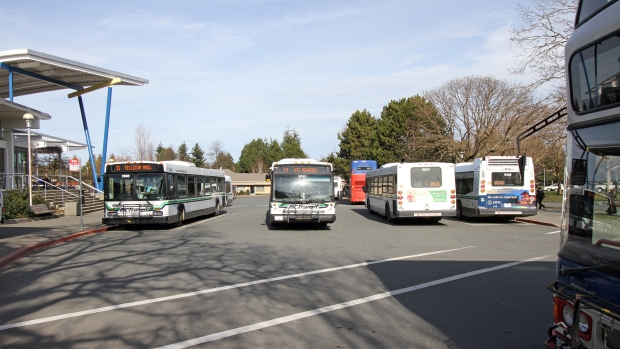 B.C. Transit buses wait for passengers at the University of Victoria exchange.
Photograph by:
Bruce Stotesbury , timescolonist.com March 2012
The province's transportation minister will launch a review of B.C. Transit next week that explores turning over local control to the Capital Regional District.
Blair Lekstrom appointed four members to the Victoria Regional Transit Commission Friday, after critics accused him of delays that give the new commissioners less than three weeks to finalize and approve a budget.
The four new members — Sidney Mayor Larry Cross, Esquimalt Mayor Barb Desjardins, Colwood Mayor Carol Hamilton and Victoria Coun. Marianne Alto — join Saanich Mayor Frank Leonard, Victoria Mayor Dean Fortin and Saanich Coun. Susan Brice on the seven-person board.
They have until March 31 to finalize and approve a local transit budget. The committee has sat in limbo since the November municipal elections, waiting for Lekstrom to complete appointments.
"Obviously, it took a little bit longer than I would have liked, without question," Lekstrom said Friday.
"Although there will be some tight time frames here, I have more than enough confidence in all the individuals on this board that they're going to be able to do this work."
With such little time before the budget, Desjardins said, she'll have to reply on the expertise of others to guide her transit decisions. "Requesting significant changes is not likely to be realistic," she said.
"Here we have appointed decision-makers not even being able to assume their duties on the eve of a fiscal year because the province took so long," said NDP critic Rob Fleming, MLA for Victoria-Swan Lake. "They haven't even given a decent explanation."
Lekstrom said his office followed proper appointment guidelines but was waiting for responses from those offered spots.
The transit commission makes many of the decisions related to local bus service, funding and future transit projects in the region.
The provincial government's role in appointing transit commission members remains a point of contention for some local politicians.
Greater Victoria mayors have asked Lekstrom to consider letting the Capital Regional District take over from the commission. Lekstrom said he would consider that as part of a review he will launch next week into B.C. Transit's governance, accountability and financial relationship with communities.
Leonard said the transit commission is "decades-old legislation" that doesn't work. For example, commission rules allow either the mayor of Oak Bay or Esquimalt to be appointed — but not both. Now that Desjardins is on the board, Oak Bay is shut out. It also allows for only one of the three peninsula municipalities, and one West Shore representative.
"Langford, Sooke, View Royal, Highlands, Metchosin are all shut out of transit for probably three years," Leonard said. "This is way out of date."
A CRD transit board would have a better mix of local representatives, he said.
On Friday, Lekstrom also ruled out a suggestion by Victoria's mayor that the gas tax be increased to fund future transit projects.
"The addition of more gas tax for Victoria is not on the table."
rshaw@timescolonist.com
We thought you might also be interested in..