Where have all the herring gone?
Mar 10 2012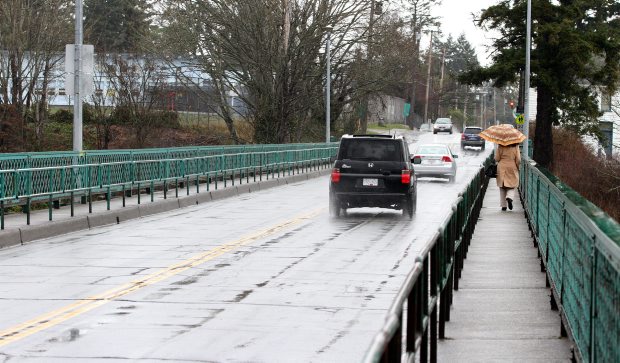 The Craigflower Bridge is empty of fishermen as the herring run this year has been very poor.
Photograph by:
Bruce Stotesbury , timescolonist.com (March 2012)
The float bobs in the murky water, then there's a silvery flash as the struggling fish is plopped into a bucket.
"There we go. That's one," said fisherman Bob Briggs, standing in pouring rain on Craigflower Bridge Friday.
Catching a herring is a rarity this year for fishermen who turn out annually on the bridge over the Gorge.
"It's terrible, non-existent. By this time last year I had 300 or 400 fish and this year I've got 50 tops," Briggs said.
Along the bridge, the story is similar. Theories as to why the herring are not turning up in the Gorge range from oil spills to poor ocean survival or overfishing.
"You always have high expectations, but I've got about 50 fish this year and that's for 50 hours work," said Jim Yardley.
"It's a sociable thing to do, but when the fish don't come, it is not so much fun."
However, in the Strait of Georgia, herring is abundant and a seine and gillnet fishery was allocated 18,000 tons, an estimated 16 per cent of herring in the strait, the Department of Fisheries and Oceans said.
"The stocks are healthy," said Lisa Mijacika, Fisheries and Oceans pelagics resource manager. "Herring are very unpredictable. They're a short-lived species, and they don't necessarily go back to the same spots each year."
Herring are a keystone species -- which feed salmon, which, in turn, feed resident killer whales -- and are critical forage for gray whales, humpbacks, sealions and seabirds.
This year, many Strait of Georgia fish are smaller than needed by the roe fishery and, with a poor market for roe in Japan, the fishery has not taken its full quota, Mijacika said.
The Strait of Georgia and Prince Rupert are the only commercial herring fisheries in the province. Haida Gwaii, west Vancouver Island and Central Coast closed more than a decade ago after stocks collapsed.
Paul Kershaw, president of Area D gillnetters, an area that runs from the Johnstone Strait to Nanaimo, said Strait of Georgia stocks are probably good because of cold La Nina water temperatures.
"We have 42 miles of spawn this year," he said.
"Those are the ones that have escaped the fishery and are laying their eggs.
"That means that in three or four years we are going to have a pile of fish showing up again."
jlavoie@timescolonist.com
We thought you might also be interested in..