CFB Esquimalt cutting Blue Boat commuter ferry
Mar 11 2012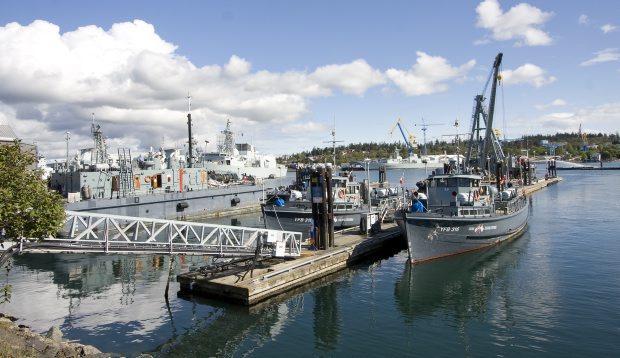 The two Blue Boats in the foreground have been used as ferries to transport people to and from CFB Esquimalt, but the base is planning to end that service at the end of April.
Photograph by:
Debra Brash, timescolonist.com
CFB Esquimalt is axing its Blue Boat commuter ferry, raising concerns that hundreds of extra cars will end up on the road, adding to the already sluggish drive between Esquimalt and the West Shore.
CFB Esquimalt commander, Navy Capt. Craig Baines, told staff on Thursday that the service would end April 30, forcing about 400 employees to find another mode of transportation between the base and the West Shore.
Recent retirements have caused the staff that operates the base's auxiliary fleet — including the two Blue Boats — to dwindle, and the remaining members are needed for base work that's more important than the shuttle service, the base commander said in a memo sent to staff and obtained by the Times Colonist.
The boats were never meant to act as a shuttle service, the memo said, but to move defence team members between the various Department of National Defence properties during the course of their work. But because there was extra capacity and the staff for it, the boats started shuttling commuters from Colwood to the base, with 13 trips between 6 a.m. and 5:45 p.m. each weekday.
Two-thirds of CFB Esquimalt employees — about 4,000 military personnel and civilians — live in the West Shore.
One navy reservist, a Langford resident who takes the Blue Boat every morning, is disappointed the service is being cut. The reservist, who spoke on condition of anonymity, said he'll likely bike to work, but when the weather is bad, he'll have to add his car to the Colwood Crawl.
Another civilian who works at CFB Esquimalt, and who also asked to remain anonymous, said the change would create a parking nightmare, since drivers are already fighting for spots on the base, with some forced to park blocks away on side streets.
Esquimalt Mayor Barb Desjardins called for Greater Victoria mayors, DND staff and Victoria Shipyards to form a working group to address the transportation issues. Traffic will only get worse, she said, with Seaspan's shipbuilding contract and the road closure to replace the Craigflower Bridge.
Langford Mayor Stew Young said motorists are already frustrated that they have to sit in traffic.
"The [cancellation of] the Blue Boats, all that's going to do is make the problem worse for people who are already on the road, so obviously we're not happy about the decision."
Young also bemoaned the lack of willingness to transform the E&N Rail line into a commuter service between the West Shore and downtown, potentially taking thousands of cars off the road.
kderosa@timescolonist.com
We thought you might also be interested in..