Vancouver Playhouse Theatre Company to shut down
Mar 11 2012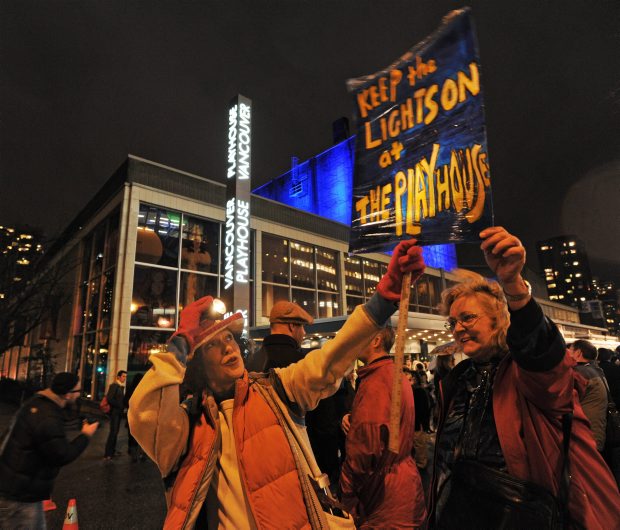 Karin Konoval, left, gets help holding a sign up in the wind and rain at the Vancouver Playhouse Theatre on Saturday night. The Playhouse Theatre company is closing after 50 years. Saturday night's show was their last.
Photograph by:
Arlen Redekop , Postmedia News
VANCOUVER — The curtain is closing for the final time on one of Vancouver's most storied playhouses.
Battered by government cuts, mounting debt and tough economic times, the Vancouver Playhouse Theatre Company ended operations at its Dunsmuir Street location Saturday after entertaining downtown audiences for nearly 50 years.
Max Reimer, the artistic managing director of the venerable company, made the announcement Friday afternoon.
Jeff Schulz, chair of the board of governors for the Theatre Co., said the board met Thursday night and reviewed the "frustrating" financial situation the theatre has been in since 2008.
"It wasn't like our business was actually tanking — that wasn't an issue at all," Shulz said Friday, standing in front of the mainstage of the 655-seat playhouse. "We had a couple of really tough years, with the economic downturn, with the Olympics, with some issues in respect to having to pay for production facilities and we accumulated a large deficit," he sadly said.
In June 2011, a renegotiated residency agreement with the City of Vancouver, which owns the building, saw City Hall grant the company $400,000 and clear a $400,000-plus debt the theatre owed.
Until then, it was the only A-category theatre Canada — meaning its revenues were in the $5-million range — to not receive any direct civic support.
Councillor Heather Deal said the City worked closely with the theatre over the past year to shore up its finances, but about $1 million in debt caused the company to call it quits.
"It's devastating," Deal said. "They'll be hugely missed. They are a very important part of the theatre world in Vancouver and beyond."
She also lamented the loss of work for the company's 15 employees.
Deal said other Vancouver performing companies continue to feel a financial pinch as senior levels of government decrease funding, corporate sponsors back off because of the global recession, private donations dry up, and fewer people purchase annual subscriptions.
At the Playhouse annual subscriptions have dropped to 4,500 from 8,000 in the last couple years.
Schulz said the company had also worked with the Arts Councils of Canada and the B.C. Arts Council to keep it afloat.
It would need an immediate $1 million and another $500,000 annually to make the company "totally sustainable."
"As most theatre companies go, it's struggled to continue to be in existence. It's just a tough business," said Schulz, who was pleased with number for attendance and performances this year and last.
NDP arts critic Spencer Chandra-Herbert, who was at the announcement, said closure of the company is a huge blow to British Columbia's arts community.
"It is very, very distressing and I think it just shows how fragile the arts industry in B.C. is right now," he said. "Arts and culture in B.C. is in crisis and has been since the Liberals made the deepest cuts to arts in B.C. history."
Chandra-Herbert, who had enjoyed a "long relationship" with the company beginning as a boy with a performance in a production of Shakespeare's Macbeth, described the mood at the announcement as sombre.
"[There are] a lot of tears in people's eyes," he said.
Deal says the city expects the building will house smaller travelling shows, other organizations such as the Vancouver Recital Society and various conferences to fill the seats.
"We want as many nights filled as possible, but I doubt that any large company will come in," she said.
Vancouver-based actor Jay Brazeau will have some time on his hands when the Playhouse goes dark, as his children's musical The Cat Came Back was to have been staged there at the end of March for a weeklong run.
Brazeau co-wrote the musical with children's entertainer Fred Penner, and the actor stars in the play alongside a pair of puppeteers who play the title character from Penner's children's song.
"I had a bunch of other work that was offered me, but I thought I should hold on to this run at the Playhouse," Brazeau said from Winnipeg, where his play was touring in a run that included dates in Calgary. The show has also drawn interest from producers in Toronto and New York.
Brazeau said he was more worried about the loss to Vancouver's arts community represented by the Playhouse's demise.
"I can always get another job, but I can't get another Playhouse," said Brazeau, who has worked both for the Playhouse and for cross-town company the Arts Club. "It's very important to have another big regional theatre in town, you need to have choices."
The Playhouse is situated kitty-corner to the Queen Elizabeth Theatre.
Brazeau and Playhouse artistic director Max Reimer looked to be on the upswing back in 2009, when the company won five Jessie Richardson awards for shows that included their hit production of The Drowsy Chaperone. Brazeau was named best actor and Reimer best director for that show.
Other award-winning Playhouse productions that year included Frost/Nixon, Miss Julie: Freedom Summer and the co-production of Where the Blood Mixes.
"I thought that was a real turnaround for the Playhouse," Brazeau said. "He was doing stuff from Broadway, things were happening."
But Brazeau said Reimer was always fighting to surmount financial problems he inherited from past administrations at the company
"I saw how hard Max Reimer was working, how physically ill he was looking from working so hard. People just didn't seem to give him or the Playhouse a break," he said.
"It was amazing he was able to get it this far. He was trying to change the Playhouse, and people were angry with the old Playhouse, and they were venting towards Max. It would have been lost three years ago, but he managed to keep it going this much longer."
Brazeau said the company was a resource for smaller professional and amateur companies, lending help with sets and costumes.
"It's an embarrassment to the city that the Playhouse is like this. These organizations are so important to culture in Vancouver. I can't tell you how many people are leaving Vancouver, how many actors, people in the arts. You're losing your culture, it's moving away because they cannot survive. If the Playhouse can't survive, how are all these other organizations supposed to survive?"
Councillor Deal says there's "no doubt" Vancouver remains an arts community — people are just changing the way they spend their cultural dollars.
Rather than pay for an annual subscription to a playhouse, "there's more picking and choosing things around the city," she said.
Saturday's final performance was Catalyst Theatre's Hunchback.
We thought you might also be interested in..