Hundreds attend Victoria rally to denounce election fraud
Mar 12 2012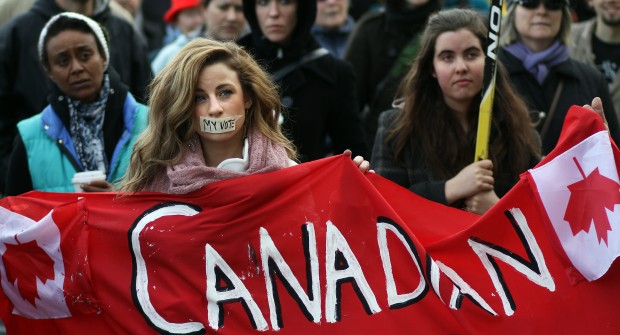 The tape across the lips of Meagan Greentree says "My Vote" as she and other protesters participate in the Victoria portion of what was billed as a National Day of Action Against Election Fraud on Sunday, March 11, 2012. The Victoria rally began at Centennial Square and included a march to the legislature. Similar events across the country — including Nanaimo — were motivated by outrage over the the national robocall controversy.
Photograph by:
Adrian Lam , timescolonist.com
Greater Victoria protesters joined a nationwide rally Sunday to let the Canadian government hear about their dwindling faith in democracy as the ongoing robocall scandal unfolds.
Hundreds of residents marched through the downtown of B.C.'s capital, calling for byelections and chanting, "Stephen Harper's got to go!"
Dozens of similar rallies were held across the country Sunday in the wake of allegations about fraudulent phone calls made to voters in dozens of ridings during last year's federal election campaign, redirecting them to the wrong polling stations.
"That's what this rally's all about and that's why there's so many frowns on people's faces these days. It's because people aren't being held accountable and there's no transparency anymore," participant David Norwell said.
He stood shoulder-to-shoulder with other protesters, listening to speakers who slammed the federal government from the steps of the B.C. legislature. A common theme was how important it is for Canadians to take the allegations of election fraud seriously.
"I think it's a terrible testament to the state of our society," Norwell said in an interview. "Robocalls are only the beginning of the other number of scandals and frauds coming. It's only going to get worse."
Daniel Knippshild held up a poster-sized replication of the cover of a pretend "Fascism for Dummies" book. He wanted to show his solidarity with the nationwide rallies.
"This is not something I want to see continued, so we either do something now or we do something later — and there's no time like the present," he said.
Jocelyn Samek organized the rally after seeing Victoria excluded from a list of cities planning to participate.
She created a Facebook page and, within days, had several speakers scheduled to talk and hundreds of people receiving word about the protest.
Samek said the call to action has nothing to do with people's political stripes.
"Some people have perceived this national event as being against Conservative voters," she said. "Not at all. We're all here together. This isn't about how we vote, this is about the democratic process."
That sentiment was shared by other protesters across the country.
In Ottawa, Eden Schill joined about 30 other people at Parliament Hill.
She said she doesn't see any particular party looking bad — or good — in view of the allegations of dirty tricks flying back and forth in the House of Commons. Rather, she said, the system itself is coming under scrutiny.
Schill said her confidence in last year's election was shaken after Elections Canada began investigating a number of ridings after being deluged with thousands of complaints.
"I took part in the election, and it gives me the message that my vote doesn't mean anything," Schill said. "I wasn't personally affected by the robocalls, but a bunch of people were and that makes me feel like my vote doesn't count."
About 30 people in St. John's, N.L., braved cold winds to call for a public inquiry into the allegations of voter suppression.
Unlike Victoria, there were no formal guest speakers at the Newfoundland event and people instead huddled together in small groups to discuss the issue at length.
In Montreal, about 125 protesters of all ages marched through the downtown carrying placards with such messages as "Dude, where's my polling station?" and "Hello, democracy is currently out of order, please stay online for an inquiry."
"This kind of scandal is further proof that our system does not work and so we are calling for proportional representation," said participant Ally Hobeson, a McGill University law student.
The protesters marched to the RCMP's Montreal headquarters where they demanded that the police force investigate the robocall scandal. An RCMP official told them nobody was available to reply to their demand and then went inside.
Other protests were held in Calgary, Toronto and other cities.
Back in Victoria, Samek echoed demands made by many of her Canadian counterparts from across the country. She wants to see further investigation and byelections held where necessary.
The growing uproar broke when an investigation by the Ottawa Citizen and Postmedia News revealed that fraudulent automated phone calls were made in Guelph, Ont., directing voters to incorrect polling stations.
Elections Canada is in the middle of an investigation and has received thousands of complaints.
Prime Minister Stephen Harper has denied the Conservative party had any involvement in placing the robocalls, and challenged the opposition parties to prove his Conservatives are guilty.
— With files from Postmedia News
dspalding@timescolonist.com
We thought you might also be interested in..