Man charged after car slams into house
Mar 12 2012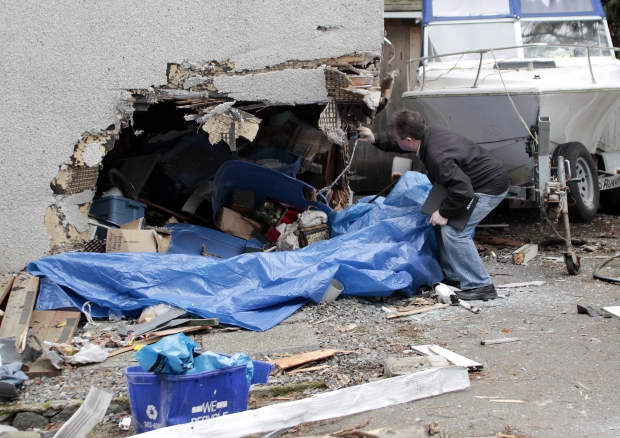 An adjuster takes pictures of the damage left behind after a red 2004 Jaguar sports car lost control and ran into the home of Luke and Samantha Gysbers on Feb. 2, 2012
Photograph by:
Lyle Stafford , timescolonist.com
A Saanich man who allegedly crashed a sports car into a home while driving drunk last month has been charged.
Reginald Garry Hook, 51, is facing seven charges, including impaired driving causing bodily harm, dangerous driving causing bodily harm, failure to remain at the scene of an accident, taking a car without the owner's consent and refusal to comply with a blood sample.
Police allege Hook was behind the wheel of a burgundy four-door Jaguar which careened into a home at 3901 Carey Road at 2 a.m. on Feb. 2.
The impact pushed the wall of a basement suite and violently shook the bed of a couple in their 20s, Holly Knopf and Cody Miller. They said they were amazed no one was killed. Both had mild concussions and whiplash-like injuries to their upper backs and heads.
The driver crawled out of the car and took off, only to be arrested by police a few block away. He was given a one-day driving ban and released on a promise to appear for criminal impaired charges.
However, eight hours after the crash, Hook allegedly took a cab to a friend's home in Broadmead, borrowed her Caravan, despite having just smashed her Jaguar, and drove onto the Pat Bay highway with a beer in his hand. Police charged him with driving while prohibited, in addition to Motor Vehicle Act penalties of a 24-hour administrative driving suspension, a seven-day car impound, a ticket for not wearing a seat belt and driving without a licence.
Hook is also charged for failing to stop for a Victoria police officer, who he allegedly evaded at Douglas Street and Hillside Avenue just 10 minutes before the crash at Tillicum and Carey roads.
Hook will appear in Victoria provincial court March 14.
kderosa@timescolonist.com
We thought you might also be interested in..