Anti-strike teachers' bill goes to vote Thursday
Mar 13 2012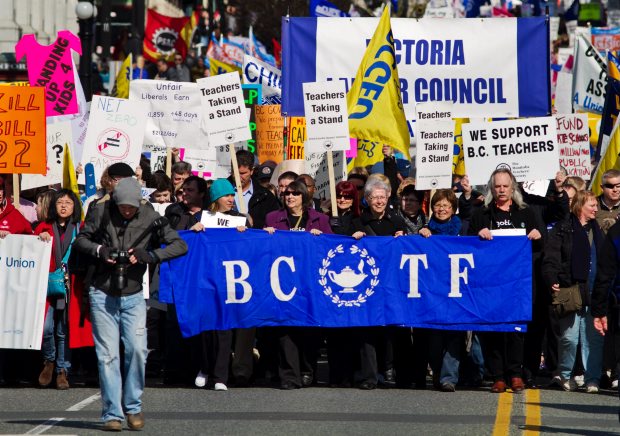 Demonstrators march down Government Street on Tuesday March 6, 2012, to a B.C. Teachers Federation and B.C. Federation of Labour rally at the B.C. legislature.
Photograph by:
Darren Stone , timescolonist.com (March 2012)
The B.C. government flexed its majority in the legislature Monday, putting an end to debate on its anti-strike teachers' legislation and ensuring an imposed settlement by the end of the week.
Liberal house leader Rich Coleman said Bill 22, which imposes a cooling-off period and makes a teachers' strike illegal, will go to a vote Thursday. The bill's passage is all but assured, given the Liberals' majority.
The move ends the possibility of additional legal strike days by the B.C. Teachers' Federation and imposes stiff fines if teachers, or the union, break the new law. The teachers walked off the job for three days last week.
Last week, the government had argued that there was no reason to rush the controversial bill. However, after six days of debate, Coleman said Monday he wanted it complete by Thursday, before students begin to return from spring break.
"Let's get the kids back in school. Let's get this thing done so that after spring break, everybody goes back to normal," Coleman said. MLAs also leave for spring break next week.
The legislature will sit for extended hours, until 9 p.m., on Tuesday and Wednesday to allow additional debate, Coleman said.
All but four NDP MLAs spoke against Bill 22. The remaining MLAs spoke instead in favour of an NDP amendment that would have imposed a mediator to settle the dispute. That amendment was defeated Monday.
The bill will now go into line-by-line debate between NDP critics and Education Minister George Abbott.
NDP house leader John Horgan said the legislature should have sat through the weekend to allow for more time.
"What's the rush? What's the urgency? Time allocation is usually brought into place because you're coming to the end of a [legislative] session," Horgan said.
"We're not even at the halfway point of the session of the legislature. The premier hasn't spoken on the bill."
Bill 22's cooling-off period will extend until September. The bill also abolishes limits on the number of special-needs students in each class, and caps the number of students in classrooms, allowing for additional compensation for teachers if the 30-student cap is exceeded for Grades 4 to 12.
Teachers and the government remain at odds over whether parents will receive the first report cards of the school year, once the legislation has passed and the cooling-off period begins.
rshaw@timescolonist.com
We thought you might also be interested in..
Notice
: Undefined index: event in
/home/viccity/public_html/v2/content.php
on line
67