Victoria man's unusual driver's licence photo goes viral
Mar 13 2012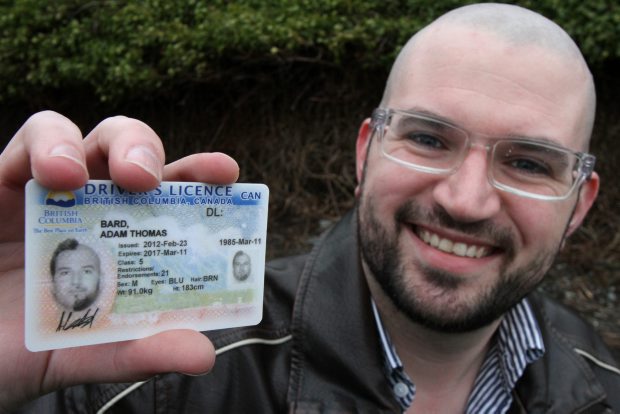 Adam Bard wanted a different look for his driver's licence photo.
Photograph by:
Bruce Stotesbury , timescolonist.com
Adam Bard went to great lengths to avoid having a routine image for his driver's licence.
He told friends he wanted to shave half his hair and half his beard before posing for his renewal photo. They didn't believe him.
But on the morning of Feb. 23, the then-26-year-old Victoria man went to his brother's home in Oak Bay and hacked off the right side of his beard and mustache. From there, the two headed to Burt's Barber Shop in James Bay and asked for half a haircut — just the left side would do the trick, thanks.
The results made for some popular photos, which Bard posted on Reddit, an online social media aggregator that allows users to vote for their favourite and least-favourite content. Within 24 hours, more than six million people had viewed the haircut. Within days, his story was making headlines around the world.
The international spotlight still surprises the computer programmer, who simply wanted a humorous driver's licence.
"I didn't expect any attention," he said. "It's completely absurd. It seems like such a stupid thing to take off like this."
The prank didn't have the impact he thought it would, however, when he headed to an office of the Insurance Corporation of B.C. He expected shocked faces — or, at least, expressions of surprise.
Instead, he made his way through a short lineup and a staff member simply took his photo. ICBC asked very few questions.
"I went in there expecting a fight. I guess I'm not the first guy to have a weird haircut," he said.
He might not be the first one to pose with a bizarre 'do, but this type of gag is not common, according to ICBC.
"People normally want to look really good because they have to live with that picture for five years," said Mark Jan Vrem, media relations manager for ICBC. "It's highly unusual to appear for a photo with that kind of haircut."
Bard shaved the rest of his scalp and face the same day he had his photo taken. But before renewing his licence that day, he picked his wife up from the University of Victoria campus and took her to lunch.
She was shocked at his appearance, but not entirely surprised. She knew what he was planning and hadn't encouraged him. The humour was mostly appreciated by Bard and his brother, Stefan.
The two of them spent time considering which side of Bard's head to shave in order to find the best match for his half beard.
"If I did decide to do the same side, I'd have to shave my eyebrow too, just for consistency. It would look stupid otherwise," he joked.
Bard was surprised at how strangers reacted. While having lunch that day, people avoided eye contact and never made a comment.
"People are very polite here. They just thought I was a guy with a weird haircut," he said. "I guess they didn't want to freak me out or anything."
dspalding@timescolonist.com
We thought you might also be interested in..