Insurance should cover most wind-damage claims, experts say
Mar 13 2012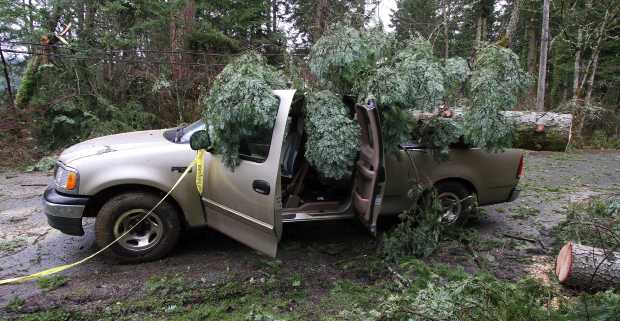 A pickup truck is totalled after a landed on it in high winds Monday on Ardmore Drive, North Saanich.
Photograph by:
Bruce Stotesbury , timescolonist.com (March 2012)
Toppled trees and other damage from harsh weather like Vancouver Island experienced Monday bring up plenty of insurance questions, experts say.
The Insurance Bureau of Canada's Serge Corbeil said people can rest assured that the effects of wind are generally covered. "For homeowners, wind damage has typical coverage in every homeowners' policy. If a roof is damaged by a wind storm, if a tree falls on your house and causes damage, that would be covered by your typical policy."
Vehicle damage is covered, too, provided you have the right level of coverage, Corbeil said.
"If a tree falls on a car, that would be covered, but only if you have your optional comprehensive automobile insurance in place. That would be an auto-insurance policy that would take care of damages to your vehicle."
Coverage would apply to just about any object blown onto a vehicle, Corbeil said.
Don Barnes of Brown Bros. Agencies said proper insurance provides coverage for damage a boat might sustain on a day like Monday, as well as such other expenses as towing a vessel off the rocks.
"As long as they're properly moored and you've got the right insurance on it, you're all good to go." But despite that, some boat owners choose to confine their policy to liability coverage, especially if they have an older boat, he said.
We thought you might also be interested in..