Saanich bike police light up the streets
Mar 14 2012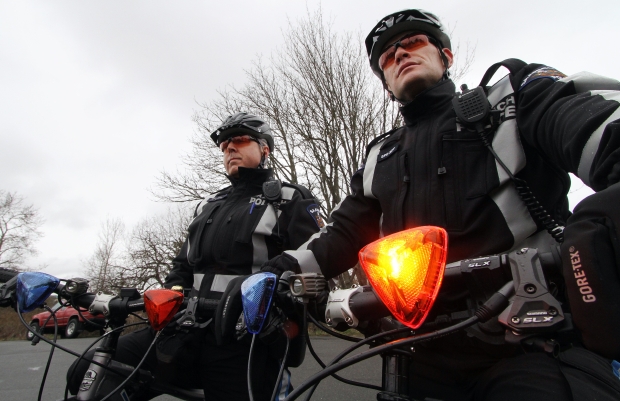 Saanich Police Constables Doug Franklin, left, and Steve Robinson on their mountain bikes
Photograph by:
Adrian Lam , timescolonist.com (March 14, 2012)
The next time you see flashing police lights on the streets of Saanich, it just might be a bicycle cop chasing down a suspect.
In what is believed to be a first in the capital region, the Saanich Police Department has equipped all four of its pedal-powered bikes with emergency lights. At just $159 per bike, it's a low-cost addition with a lot of promise, said Saanich police Sgt. Dean Jantzen.
"This is a great investment for small dollars and we think it's going to have a huge visual impact," Jantzen said. "They're bright LED lights that are extremely visual."
Bicycle cop Const. Doug Franklin will attest to that.
He said he had no problem clearing a lane on busy Blanshard Street to make a traffic stop. He then used the lights to help keep vehicles a safe distance from where the stop was made.
"It affords the officer, obviously, an increased level of safety, for both him and travelling public," Jantzen said. "It also provides some compliance with the Motor Vehicle Act as far as making a legal traffic stop."
He said police cars and police bicycles demand the same respect on the road.
"If this bike's behind you with its light flashing, that's the same as a police vehicle. You're required to yield and pull into the nearest edge of the roadway," Jantzen said. "Yielding to a police officer, whether they be on foot or on a bicycle, is still required."
Const. Steve Robinson, another member of the bike squad, said the new light packages are helping officers expand their horizons beyond the Galloping Goose and other trails.
The officers have been taking their bikes onto the streets more, and the safety and visibility provided by emergency lights will be important, he said.
Reaction so far has been entirely positive, he said.
"People were actually seeing the lights from a greater distance than we were anticipating."
Robinson said the idea for lighting the bikes came from Las Vegas police.
Many other U.S. forces have also added emergency lights to their bikes, he said.
jwbell@timescolonist.com
We thought you might also be interested in..