Windstorm cleanup to go on all week
Mar 14 2012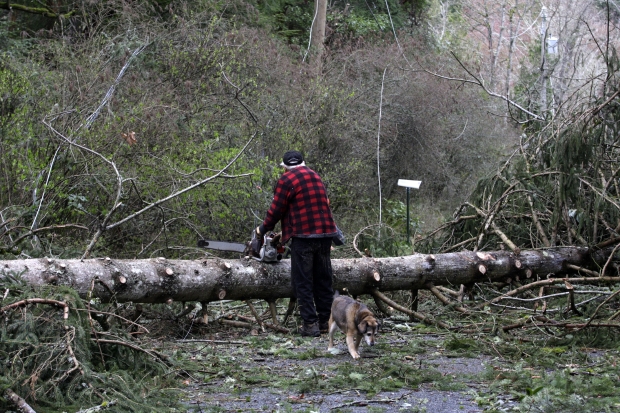 Eighty-year-old Harold Nokes rests while bucking up a fallen tree near his property on McPhail Rd on Tuesday
Photograph by:
Lyle Stafford , timescolonist.com (March 13, 2012)
Widespread damage from Monday's windstorm kept hydro crews, municipal public works staff and homeowners busy on cleanup efforts Tuesday.
Winds of up to 95 kilometres an hour toppled trees throughout Greater Victoria, damaging vehicles and homes.
Hydro crews were restoring power to 1,000 customers in the region still without power early Tuesday and to municipal parks. Public works employees were clearing streets of debris.
Blocks of wood were all that remained of an old birch tree that fell on a home in Richmond Avenue.
Anna and Damian Finegan woke with a start on Monday when the 60-year-old birch came down onto their roof about 7: 30 a.m., just after the winds picked up.
Despite the lack of visible damage, Anna said she would likely get an inspection done this week.
City of Victoria staff arrived Monday to cut up the tree. Because the birch was on city property, the couple said they may make an insurance claim with the municipality.
"It made quite a slam, but it doesn't look too bad," said Anna. "I knew it was something to do with the wind, so we came out and had a look."
The storm knocked out power to 94,000 homes on Vancouver Island. Saanich Peninsula was hit particularly hard. Firefighters, police and municipal work crews responded to dozens of incidents in which trees fell across wires or blocked roads.
The District of Saanich parks department took 35 storm-related calls on Monday, including a few about blocked roads.
"We attend every one we can as quickly as possible and then focus on the priorities," said Rae Roer, Saanich parks manager.
"Certainly, that was a challenging day for us and it's been a while since we had a storm of that magnitude."
Central Saanich received about 30 calls about fallen trees. West Saanich Road was closed north of Stelly's Cross Road.
North Saanich was still getting calls about treerelated problems on Tuesday. Staff expected to be cleaning up for the rest of the week.
Homeowners whose properties were damaged are covered under most typical insurance policies. Ian Gillespie will not know the cost to repair damage to his home on Tattersall Drive until contractors have completed the work.
Two Douglas fir trees fell on his roof while he and his son were watching the windstorm from inside. It appears the chimney took a good portion of the blow and suffered minimal damage.
Workers repaired a small hole in the roof Tuesday and will continue to work in the coming days.
"I think we're fortunate that more damage wasn't done, given the size of the trees," Gillespie said. "You always have to look for the benefits in misfortune. No one was injured and it's all repairable damage."
The Insurance Corporation of B.C. did not see a spike in the number of calls it receives on a regular day for vehicle claims, but people tend to take days or weeks before reporting.
"There will likely be some claims, but as of now they haven't called in," said Mark Jan Vrem, media relations manager at ICBC.
Hydro crews worked into the night Monday and returned to cleanup efforts Tuesday.
The Saanich school district reported some minor damage at several schools. A couple of trees came down at Stelly's Secondary School and there was a roof leak in the library at Bayside Middle School, said Kim Milburn, the school district's director of facilities.
dspalding@timescolonist.com
kwestad@timescolonist.com
We thought you might also be interested in..