Service back to normal after wind forces cancellations on two ferry routes
Mar 15 2012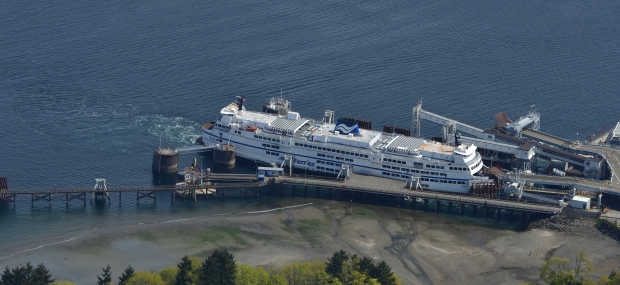 Departure Bay ferry terminal at Nanaimo.
Photograph by:
Nanaimo Daily News , ...
Mother Nature dialled down the wind a little Wednesday, leaving only a pair of ferry routes shut down.
It was nothing like Monday's big gusts, which idled as many as 15 routes at one point, but enough to remind travellers that weather often has the upper hand. The first route affected was Comox-Powell River, followed later in the morning by the cancellation of ferries going from Horseshoe Bay in West Vancouver to Nanaimo's Departure Bay.
Winds were not affecting other major sailings, said Ferries spokeswoman Deborah Marshall.
"It's like a band across the Horseshoe Bay-Departure Bay route."
Delayed routes were back in service by the afternoon.
Wind could also have been behind a power outage Wednesday morning on the Saanich Peninsula that affected the feed to Victoria International Airport. Victoria Airport Authority spokesman Terry Stewart said the emergency power system worked as expected and operations were unaffected.
"It was nothing untoward," Stewart said. "Any time B.C. Hydro clicks off, within a second our power generators fire up. We've got three emergency power generators, two for our airfield and one for our terminal building.
"They're run on diesel and we can run them in perpetuity."
The emergency system is tested monthly, Stewart said.
"It's the heart of our safety program."
B.C. Hydro spokesman Ted Olynyk said crews were still dealing with a few power issues in the Victoria area by late Wednesday morning.
Some of the final repairs were complicated by the difficulty of access to poles located in backyards.
Oak Bay, in particular, has backyard power poles that can hinder repair efforts, Olynyk said.
"We're actually trying to move some of the poles to the street because of that."
Harbour Air Seaplanes managed to get in three scheduled Wednesday morning flights between Victoria and the mainland, in both directions, before the wind became too strong. For one of the flights, the company made use of its Patricia Bay landing facilities, where winds weren't as forceful as those at the Inner Harbour.
When Patricia Bay is used, passengers are provided with transportation to or from the downtown area. Service from Victoria was offered again in the afternoon.
Environment Canada meteorologist David Jones said Greater Victoria can expect lighter winds on Thursday. Wednesday's winds were largely in the 60- to 80-kilometre range, he said.
jwbell@timescolonist.com
We thought you might also be interested in..