Mayors vow to untangle West Shore traffic mess
Mar 15 2012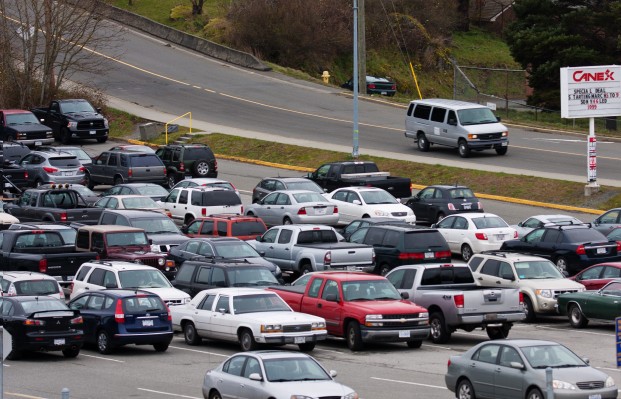 A CFB Esquimalt parking lot is filled with vehicles.
Photograph by:
Darren Stone , timescolonist.com (March 2012)
Cancellation of CFB Esquimalt's Blue Boat commuter ferry has galvanized several Greater Victoria mayors, who are vowing to find solutions to the worsening West Shore traffic congestion.
"This has been a catalyst to pulling the players together and putting some focus on this issue," said Esquimalt Mayor Barb Desjardins. "It's really gelled us as a group, and we realize we have to take this on."
Representatives from Esquimalt, Colwood, Langford, Metchosin, Sooke and the Highlands met Wednesday, agreeing to work with CFB Esquimalt, B.C. Transit and the federal and provincial governments to find transportation solutions.
The base will end its boat shuttle service April 30, forcing about 400 employees to drive around Esquimalt Harbour, adding to an already slow commute.
The Blue Boat cancellation, coupled with the six-month closing of the Craig-flower Bridge starting in June, will give a glimpse of the region's future traffic woes, say planners at the Capital Regional District.
"It will be an intensified example of the longer-term problems that we'll be looking at if we don't have those big-picture improvements," said Margaret Misek-Evans, senior regional planning manager at the CRD.
Wednesday's informal meeting led to several possible solutions, said Desjardins, including trying to attract a private ferry provider and pushing for alternative transportation services, such as commuter service on the E&N rail line.
Staff at CFB Esquimalt have already contacted private operators about establishing a user-pay ferry service, said base commander Navy Capt. Craig Baines.
"DND is precluded from assigning resources to help people get to and from work. We could never put on a service to do that," he said. "It will ultimately be up to the companies themselves, because we won't be able to spend any public funds."
The Blue Boat service was originally intended to connect the Department of National Defence's properties on either side of the harbour. Staff took advantage of extra space on the boats to avoid the commute, but decreasing staffing levels have left the base with fewer people to operate the vessels.
Baines said CFB Esquimalt will work with municipalities and B.C. Transit to find ways to reduce traffic congestion. There have already been discussions with Transit about how to get people out of their vehicles, including setting up more park-and-rides and providing alternate drop-off points near the base.
"We want to expedite any improvements as much as possible," Baines said. "We understand, though, that any changes of this nature will take time."
dspalding@timescolonist.com
We thought you might also be interested in..