Fishers float herring solution
Mar 15 2012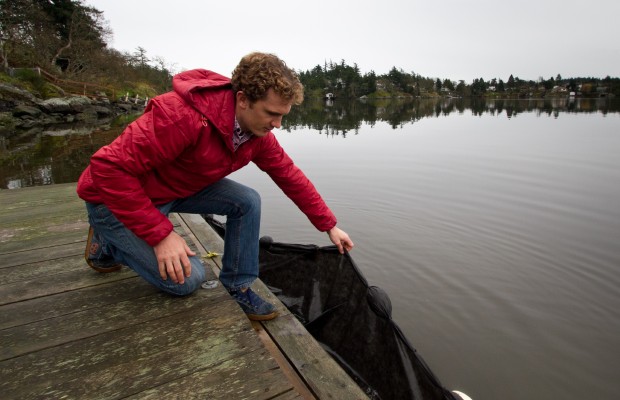 Bryson Robertson checks a curtain, made from landscape cloth and hung from a Portage Inlet dock, to see if any herring have spawned yet.
Photograph by:
Darren Stone , timescolonist.com (March 2012)
There's a killer in the inlets and harbours of the B.C. coast and a few dedicated fishers in Greater Victoria are trying to slow the death toll.
Creosote, a toxic substance extensively used as a wood preservative for marine pilings, attracts spawning herring, but groups working on the fish's recovery believe that creosote-covered pilings kill the eggs.
"It's a bit daunting when you think about how many creosote pilings there are around Victoria and Esquimalt harbours and the Gorge and Portage Inlet, but we have a lot of optimism," said Andrew Paine, a founding member of the Salish Sea Herring Enhancement Society.
Inspired by herring recovery programs in which creosote-covered pilings have been wrapped in landscaping fabric, the group has placed similar curtains in test areas near Greater Victoria pilings and docks.
The hope is that fish will spawn on the curtain instead of on the piling.
At stake is survival of the much-depleted south coast herring runs, including the genetically distinct Gorge herring, which used to blanket the inlets with its spawn.
"Herring are cool little fish, but I am doing this more for the whales, birds, seals, salmon - and, therefore, the forest and us," Paine said, noting herring's role in the wider ecosystem.
The use of herring curtains came after 2006, when millions of dead herring eggs were discovered beneath the creosotecovered pilings at Squamish Terminals docks. The herring run at the head of Howe Sound was failing, and volunteers were looking for solutions.
"Over the past five years, billions of herring eggs have hatched out successfully and we guesstimate that the run is about 600 tons," said Jonn Matsen, Howe Sound Herring Recovery project coordinator, in an open letter.
The experiment was repeated last year in Pender Harbour, where three of four curtains attracted spawning herring.
As Paine and Bryson Robertson pulled up a curtain from Portage Inlet this week, there was no sign of eggs. "But we could be a little early," Paine said.
"Often the whole school spawns at once."
Although a small number of herring continue to turn up in the Gorge, there has not been a noticeable spawn for a decade.
Anyone with a dock or pilings who would like a herring curtain can contact the herring society at paine@sitka.ca. The group is also looking for volunteers and donations of landscaping cloth.
jlavoie@timescolonist.com
We thought you might also be interested in..