Teachers threatening to pull support for extracurricular activities
Mar 16 2012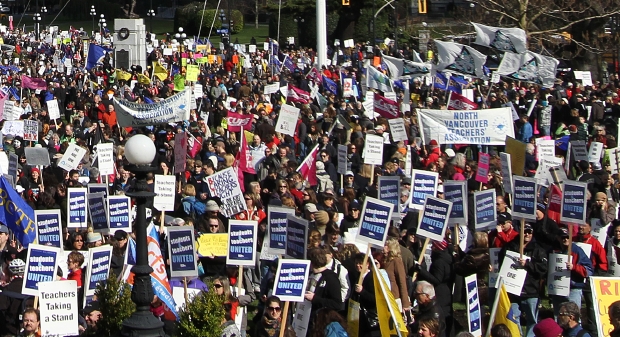 B.C. teachers went on strike for three days last week and rallied at the legislature
Photograph by:
Adrian Lam , timescolonist.com March 6, 2012
B.C.'s teachers are threatening to pull support for extracurricular activities as the provincial government brings into law a bill that ends their ability to strike.
The Liberal government used its majority in the legislature to pass Bill 22 Thursday, ending the teachers' job action and imposing a cooling-off period that extends their current contract while removing a limit on the number of special-needs students in classrooms.
"It's a sad day for teachers and teaching in B.C.," said Susan Lambert, president of the B.C. Teachers' Federation.
The province's 41,000 teachers "are determined to oppose this legislation," and specific ideas will be discussed at an annual general meeting this weekend, she said.
One item up for debate is whether teachers should continue to volunteer for extracurricular activities, such as sports teams and drama clubs, which Bill 22 does not force teachers to participate in, said Lambert.
"For sure that one will be debated. I don't know whether that will be something that will be part of a federation provincial plan or whether it will be left to local associations to debate themselves, but that's certainly one."
Bill 22 ends what teachers had called phase one of their job action, including their refusal to write report cards. It also imposes stiff fines if teachers try to strike. Teachers had walked off the job for three days earlier this month, an action approved by the Labour Relations Board.
Lambert said the legislation doesn't affect voluntary activities such as after-school clubs, so that remains one of the few options left for teachers to show their displeasure with the government.
"It's not something we want to do. A lot of the joy you get in teaching is through extracurricular activities. But when you have such limited options and when you're facing such punitive fines, what else can you do to make sure you can continue to articulate the needs of your students?"
Education Minister George Abbott said the government can't demand teachers perform extracurricular activities, although it appreciates the teachers who give their own time to coach teams outside school hours.
Bill 22's passage came with one amendment, which changed the start date to Saturday, allowing one additional day of limited job action at school districts not on spring break today.
"I take no pleasure at all in being the latest in a long line of education ministers who have to utilize the legislature to move a dispute along with the B.C. Teachers' Federation," Abbott said.
rshaw@timescolonist.com
We thought you might also be interested in..