'All the things I would need in a friend'
Mar 16 2012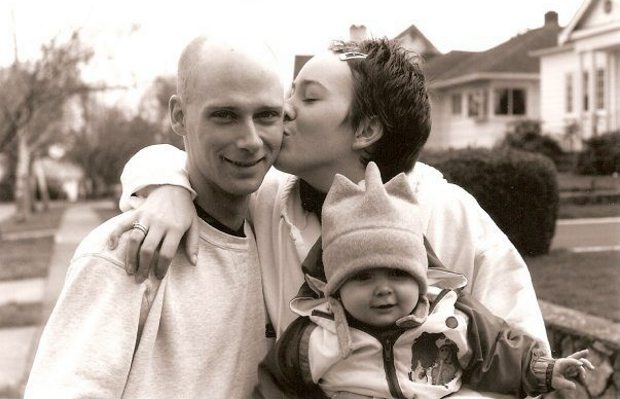 Nicholas Fantasia and Elizabeth Nicol with their daughter, who is now 12. "He loved his daughter as much as any father could love a child," Nicol says.
Photograph by:
Family photo , timescolonist.com
The first time Elizabeth Nicol met Nicholas Fantasia, she was 15 years old and he borrowed her skateboard.
"He was wearing a suit and Italian leather shoes and he did some crazy kick flip better than I'd ever seen anyone do a kick flip in a standing position," she said, as memories came flooding back of her friend and former partner, who died in October 2008.
"Nick had come from Halifax. He was one of the best skateboarders there. He came to visit Saltspring and he just blew everyone's mind. He was like Jesus on a skateboard."
Earlier this week, Nicol, now 31, sat in the back row of a Victoria provincial courtroom at the sentencing hearing of the Ontario man convicted of assaulting Fantasia on the night of his death. Originally charged with second-degree murder, Ryan Demorest pleaded guilty to assault causing bodily harm and was sentenced to 10 months in jail.
Fantasia's body was pulled from the Inner Harbour near the Regency Hotel on Nov. 5, 2008. An autopsy found a fracture of his orbital bone. Although there was indication Fantasia died from drowning, there was no conclusive cause of death.
"The case is complicated because Mr. Fantasia's tragic death came within a relatively short time of the assault. There may or may not be a causal connection with his death," Victoria provincial court Judge Robert Higinbotham said.
Fantasia lived on the street and was a drug addict, but the 35-year-old was a much loved son and friend, and a father to his and Nicol's 12-year-old daughter.
"Losing Nick was like losing my oxygen. He was the friend that made me want to be here and be happy as a human being. He taught me how to smile. He was a happy man. He surfed and skateboarded and practised kung fu, meditated, jogged, made jokes, had a bright beautiful smile and sparkling blue eyes," said Nicol.
Even though he had a major drug problem, Nicol was proud to call him the father of her child.
"Nick was one of the most unique, incredible people I've ever met. I know he loved his daughter as much as any father could love a child. But his fear of her seeing his drug problem kept him away from her."
When she found out she was pregnant, Fantasia begged her to keep the child and convinced her he would be there, said Nicol. She admits she was angry with him for years as she watched his struggle on the street.
"But I had that naive belief that he would recover. I could see us chit-chatting the rest of our lives."
Fantasia was intelligent, wise, empathetic, honest and loyal, said Nicol. "All the things I would need in a friend."
Today, she lives with the knowledge that even if he was going to get clean, he's not coming back.
"I learned a lot from Nick and I'm so grateful to have known him. And as hard and awful and crippling as the whole thing has been, I don't regret it."
Fantasia did not want to die. He wanted to be here, said Nicol. "He talked me into wanting to be alive," said Nicol, who was struggling with depression when she met him.
Fantasia studied Buddhism and believed in reincarnation. Nicol feels he has helped her cope with his loss and the legal proceedings. She believes he would forgive Demorest.
Although she didn't expect it, Nicol said Demorest's sentencing hearing has given her closure.
"I had an epiphany of forgiveness yesterday. And it was really amazing because immediately after my epiphany, I went outside and it was snowing. And snow is my favourite thing in the whole world. It makes me happier than anything," she said.
"And Nick knows that. I feel like he's hanging out with a bunch of angels and they just dropped a bunch of snow right on my head because I made the choice to attempt forgiveness."
ldickson@timescolonist.com
We thought you might also be interested in..