Base firm on shutting Blue Boat
Mar 17 2012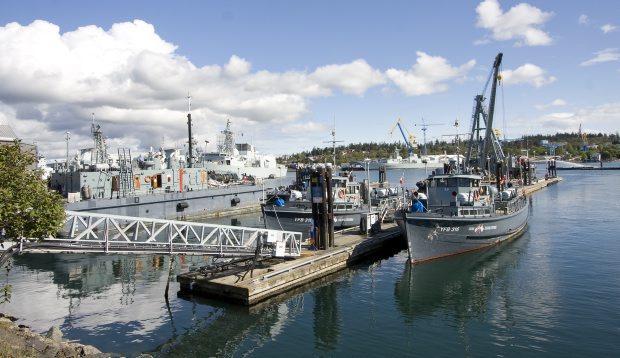 The two Blue Boats in the foreground have been used as ferries to transport people to and from CFB Esquimalt, but the base is planning to end that service at the end of April.
Photograph by:
Debra Brash , timescolonist.com
The Department of National Defence is standing firm on its decision to shut down the Blue Boat commuter ferry by April 30, but said it is open to working with B.C. Transit to minimize traffic congestion.
At a closed-door meeting on Friday, B.C. Transit asked officials from CFB Esquimalt to extend the shuttle's operation for one year, but the request was denied, said B.C. Transit spokeswoman Meribeth Burton.
"We have been told firmly, because of costs and staffing issues, that there is no choice from the base's perspective," Burton said.
"This service ends April 30."
Base commander Navy Capt. Craig Baines said due to attrition, retirement and sickness, staff are no longer available to run the boats.
"We're not able to meet our operational requirements and still run the cross-harbour ferry service," he said, adding, "DND isn't the whole problem and we can't be the whole solution."
The federal government can't subsidize employees' trips to and from work, Baines said, but DND can help in other ways, such as establishing a parking area for carpoolers or providing land near Bear Mountain Arena for a transit park and ride. Base officials are also considering whether a private operator could provide cross-harbour ferry service.
B.C. Transit has said it doesn't have the $200,000 in its annual budget to put an additional bus on the road to transport some of the 400 to 600 people a day who use the boat to go between the West Shore and Dockyard.
It's asking DND to help cover the costs of additional transit service, such as extending the route of the No. 25 bus, which offers limited weekday service between Colwood and Dockyard, Burton said.
No matter what small measures are taken, traffic is bound to increase along the Trans-Canada and Old Island highways and feeder roads, said Burton.
"Even if they add another bus, even if there's carpooling, we're talking about greater congestion on our roadways," she said.
B.C. Transit is calling on municipal leaders sitting on the transit commission to consider priority lanes for high-occupancy vehicles and buses, which over 18 months have drastically reduced congestion in Kelowna.
Prior to the introduction of HOV lanes, B.C. Transit in that city saw annual growth of two per cent, said Burton. Since they were installed, the route that uses the lanes has seen its ridership increase by more than 20 per cent, she said. Regionally, B.C. Transit ridership was up nine per cent.
"It's beyond our wildest expectations," she said.
Esquimalt Mayor Barb Desjardins said she is encouraged by word that DND is willing to talk about solutions. "Time frames are always difficult, but I see this as a catalyst for change," she said. "We just need to push forward and make it happen."
She's hopeful that a private company can meet DND's security concerns and provide the ferry service.
Esquimalt has also written letters asking the federal government to fund a share of getting the E&N railway running as a commuter service.
"There are options there, we just have to have the political will at all levels and that's the key."
smcculloch@timescolonist.com
We thought you might also be interested in..