Submarine HMCS Victoria fires its first exercise torpedo
Mar 17 2012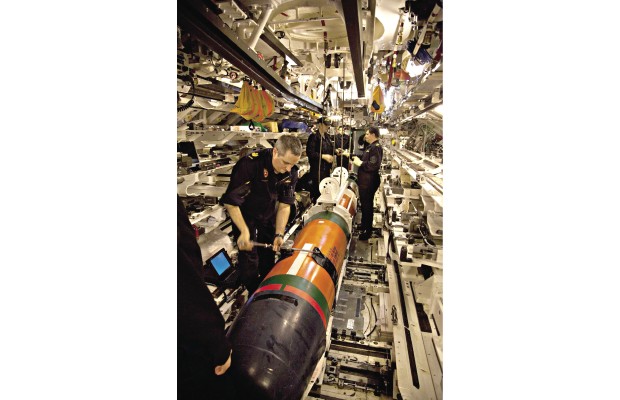 Petty Officer 2nd Class David Johnston, a senior weapons technician and torpedo instructor, prepares the torpedo that was fired during sea trias from HMCS Victoria on Friday.
Photograph by:
David Malysheff, Department of National Defence , timescolonist.com
In what the navy regards as big step forward, HMCS Victoria has become the first vessel in Canada's four-submarine fleet to fire an MK48 torpedo.
Capt. (N) Luc Cassivi, director of the Canadian Submarine Force, said the successful testing of the submarine, based at CFB Esquimalt, represents a major milestonethat affects the entire submarine program.
The firing of an exercise version of the MK48 torpedo came this week at the federal Nanoose Bay testing range off the east coast of Vancouver island. There were multiple firings of the MK48 — whose warhead was replaced with data-collection electronics — along with trials of other weapons systems.
"Actually, it's the first time a Canadian submarine has fired an exercise torpedo in over 10 years," said Cmdr. Christopher Ellis, who is in charge of Victoria.
He called the torpedo tests "a very visible indication that we're just around the corner of being a fully weaponized, operational submarine."
Technical testing of Victoria will continue, Ellis said, and the vessel should reach the certification stage later this year.
"That's what we're in the process of doing right now, is doing a whole bunch of combat-system trials to make sure that our equipment is good to go."
The second element of certification is training and preparing the crew, he said. A full complement for Victoria is 59.
Canada's submarines — Victoria, Windsor, Corner Brook and Chicoutimi — have had a bumpy history since being bought used from Britain in 1998. The four boats cost $750 million and have since had $900 million spent on them to deal with various problems, and to prepare them for the navy's needs.
Three of submarines are on the West Coast. Windsor is the lone submarine located on the East Coast, where it is undergoing repairs that could get it back to sea this year. Chicoutimi should be in operation next year and Corner Brook is undergoing extensive maintenance until 2016.
Corner Brook was damaged last June when it hit bottom during training.
jwbell@timescolonist.com
We thought you might also be interested in..
Notice
: Undefined index: event in
/home/viccity/public_html/v2/content.php
on line
67