$110 million to house region's homeless, says coalition report
Mar 18 2012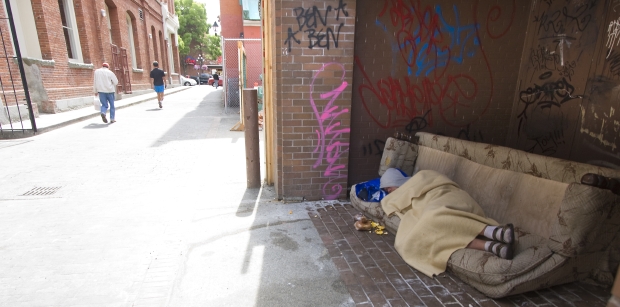 Housing region's homeless would cost an estimated $13.7 million a year, a report says
Photograph by:
timescolonist.com , file
It will cost about $110 million in capital over the next seven years to build enough housing to end homelessness in the Greater Victoria area, says a report to be released this week by the Coalition to End Homelessness.
Operating those units will cost another $13.7 million a year, according to the coalition's procurement action plan.
Victoria Mayor Dean Fortin, co-chairman of the coalition, says the plan is doable. "As a community, which includes the senior levels of government, if we put $10 million to $15 million a year into housing, that's not a large amount of money when you think of the federal, provincial and local communities."
The coalition's action plan sets a goal of housing 1,500 people by 2018 - the same goal it hoped in 2009 to meet by 2014. The target incorporates about 500 units already brought on stream since 2008.
Key features of the procurement plan include:
- Creating 719 units of supported housing through new construction and renovating and repurposing existing buildings - estimated to cost $109.9 million. Almost 45 per cent (315 units) are forecast as being created through an approach that would see annual competitive calls by B.C. Housing to private developers to design and build the units.
Once completed, the units would be turned over to non-profit groups to operate. The balance of the new construction and acquisitions would be provided through faith-based groups and the non-market sector.
- Adding 245 units of housing through rent supplements.
- Rent subsidy and support costs are estimated at $1.66 million over the seven-year period.
- The procurement plan calculates that by 2018, the annual operating costs - including debt service, support and rent supplements - will be about $13.7 million.
- Annual per-unit costs of the new housing are estimated at $16,748. For rent-supplemented units, the annual per-unit costs are $6,800.
Investment in social housing is a sound one, Fortin said.
"This is about making these investments over the next seven to eight years that are going to allow us to save a whole lot of money in other areas: hospitals, policing, social services, health care - those are all areas that will see those savings," Fortin said.
"So we have to see [social housing] as investments as opposed to expenses."
The coalition says that since 2008, more than 500 people have been housed through a mix of market housing, single-room occupancy hotels and rent-supplemented units in market housing.
Progress has been made on many of the projects identified in 2009, including:
- Clover Place, 18 units of supportive housing (2010);
- Camus Gardens, 44 units of supportive housing (2011);
- Rock Bay Landing, 23 units of transitional housing (2010);
- Olympic Vista, 36 units of supportive housing (2011);
- Swift House, 23 units supportive housing (opening this month); and
- Queen's Manor, 36 units supportive housing (to be completed in September).
The Streets to Homes program, piloted by the coalition but now administered by Pacifica Housing, which provides rent supplements to move hard-to-house people into market housing, has housed 70 people. bcleverley@timescolonist.com
We thought you might also be interested in..