Drug shortage has veterinarians worried
Mar 18 2012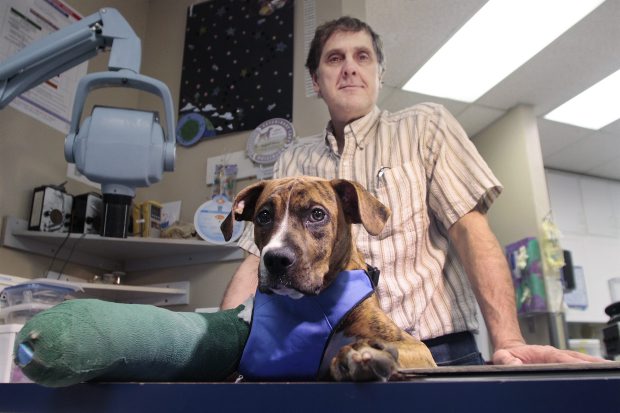 Dr. Nick Shaw in the operating room with Bandit after being hit my a car, says so far there have not been any reports of surgery cancellations because of the drug shortage caused by Sandoz Canada. But that situation could change within the next four to six weeks, Shaw says.
Photograph by:
Lyle Stafford , timescolonist.com (March 2012)
Local veterinary hospitals are keeping a close eye on their drug supplies and have had to find alternative medicines for animals because of a shortage caused by drug-maker Sandoz cutting its production of injectable painkillers and anesthetics.
So far, vet hospitals aren't reporting any cancellations of animal surgery, but that could change within the next four to six weeks, depending on demand, said veterinarian Nick Shaw.
"It's a potential problem that is probably going to hit us in our practice in about a month or so," said Shaw, who has four animal hospitals in the region.
"At this time, we're a large enough practice that we have enough inventory and can manage."
Sandoz Canada Ltd., a generic drug company in Boucherville, Que., makes several hundred medicines, including injectable cancer drugs, antibiotics, anesthetics and morphine. Its products account for 90 per cent of injectable medications used in Canada.
The company scaled back production of some pharmaceutical products and discontinued production of others after the U.S. Food and Drug Administration cited it for deficiencies relating to safety and reliability of its products.
Operations were cut back in February, with no notice given to the hospitals that count on Sandoz for supply.
A fire in early March forced the company to halt production entirely. Production resumed last week in parts of the factory that were not directly damaged by the fire.
Both human and veterinary hospitals have been affected by the shortage.
Locally, hospitals and pharmacists are working to share the limited supplies of the affected drugs.
The Vancouver Island Health Authority said Saturday that no elective surgeries have been cancelled so far.
Animal hospitals also use many of the drugs produced by Sandoz. Some, particularly those for pain control, are the same as those used for humans.
Other key drugs that vet hospitals are keeping an eye on are those that control seizures in pets, and drugs such as Valium, which is often part of the anesthetic cocktail given to animals before an operation.
The Canadian Veterinary Medical Association issued an alert to its members last week, saying eight medications would be in short supply, including morphine, diazepam and phenobarbital.
"Until this supply is resolved, veterinarians will need to look for ways to mitigate the impact of shortages of key veterinary products," the bulletin says.
"This includes using alternative anesthetic protocols or alternate drug selections based on availability."
Vet hospitals will get the drugs before vet offices, but as production comes back on line, the priority will be providing drugs for humans.
Shaw said several local vets have managed to find alternate suppliers for some of the medications. Some anesthetics have been changed to make up for shortages.
"It doesn't mean we can't anesthetize or manage pain," Shaw said. "We can still do that, but we do it slightly differently."
The reduced amounts of Valium are a concern, he said, as it is very effective in treating animals suffering seizures.
"It is the drug of choice, and we haven't found a suitable alternative yet."
The B.C. Veterinary Association is presenting workshops for vets on how to deal with the shortages. kwestad@timescolonist.com
We thought you might also be interested in..