Anatomy of a murder: Nanaimo's Kelvin Purdy says he's not a killer
Mar 19 2012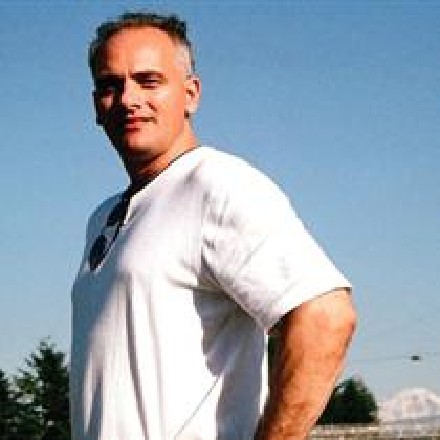 Kelvin Purdy is serving his sentence at the Pacific Institution in Abbotsford.
Photograph by:
Denise Alanzo Purdy
NANAIMO — Convicted murderer Kelvin Kingsbury Purdy still tallies up the days as they pass him by, now 3,017 into his life sentence.
Purdy, 44, stabbed his estranged wife to death in a Nanaimo laneway on Dec. 12, 2003, and has been in custody ever since, although he has always professed his innocence.
Repeated attempts to have his second-degree murder conviction overturned culminated in the recent dismissal of his leave to appeal in the Supreme Court of Canada.
Yet Purdy, buoyed by prospective representation by a group of Toronto legal professionals distinguished for their work in wrongful conviction reversals, says he is moving forward to the final step in the appellate process, which is a review of his case by the Ministry of the Attorney General.
Such a review is not currently underway.
"They can overturn a decision, he can grant an exoneration, he can grant a new trial. It's kind of like the final say in the whole thing," said Purdy, reached by telephone last week at Pacific Institution in Abbotsford, where he is imprisoned with no parole eligibility for another 11 years.
Denise Alanzo Purdy, Kelvin's 30-year-old wife from whom he had separated some months prior, was taking her usual route to the bus stop for work on the morning of the crime.
The young mother, an immigrant from the Dominican Republic, worked at Nanaimo's Longlake Chateau where she tailored and shopped for the retirement facility's 123 residents and was praised for her constant smile, infinite patience and great humour.
At approximately 6:15 a.m., Denise was confronted by Purdy in a dark alley off of Lasalle Road in the north end of the city, the courts found.
As she tried to flee, the left-handed Purdy chased and began stabbing her, leaving many of the 21 fatal wounds on her left side, evidence at trial showed.
The possibility was also raised that Denise's head was bashed against a metal light standard after she was stabbed in the head, neck and chest.
While it was dark out, the walkway where Denise was attacked was partially lit by streetlights. Several witnesses heard screams and three saw part of the attack and provided descriptions of the assailant.
The first police officer to arrive at 6:23 a.m. found Denise fatally injured and covered in blood.
A forensic pathologist testified that any number of wounds to the internal organs or the severing of several major arteries could have led to her death.
Purdy was arrested two hours later by North Cowichan/Duncan RCMP at Cowichan District Hospital, where he had just received six stitches for a cut on the back of his right hand.
He lived in Duncan at the time with his then-girlfriend, Jennifer Whyte. She had awakened at 6:15 a.m. that day and found him gone from their apartment with her cellphone and Ford Explorer missing.
She got through to him after 11 calls and he said he was at a Tim Hortons restaurant. He was actually at a Payless gas station, where he was recorded by video surveillance at 7: 12 a.m., and the Crown theorized at trial that he had disposed of blood-spattered clothes in the station's dumpster.
He then went home and while preparing to make breakfast claimed to be cut on his hand. That's when they went to the hospital.
Whyte and Purdy's daughter both testified to seeing blood smears on the Explorer's dashboard while en route. DNA tests later showed the blood to be of mixed origin, with Denise's blood being the main component.
The murder weapon was never found, but a knife sheath discovered at the scene was later identified by one of Purdy's daughters as having been at the home shared by her dad and his girlfriend.
A police officer later clocked the drive from Duncan to the scene of the crime at the same time of day and found there was time for Purdy to make it up there and back within the window provided.
A specific motive for the murder was never made clear, but the 2005 trial heard that Purdy had threatened to kill his estranged wife once when she asked him for money.
That fall, Denise had resumed having family allowance cheques directed to her, money that had until then been going to Purdy.
He had discovered earlier that year that Denise was seeing boyfriend Charles Panet and the couple separated.
They had been battling over custody and access to their two daughters and a restraining order had been placed on Purdy.
When Purdy was sentenced, presiding Justice James Taylor raised the question of whether Purdy is a psychopath, first broaching the matter after Crown prosecutor Frank Dubenski said he showed "no remorse" for the killing.
Taylor said in his decision that Purdy's actions before, during and after the crime, appeared narcissistic and were consistent with psychopathic behaviour, referring to the killing as an ambush.
"One can only imagine the terror experienced by Mrs. Purdy in those final moments," Taylor said, describing "a short period of intense fear and panic impossible to comprehend."
Taylor noted that the murder was planned and that Purdy acted as if nothing had happened upon his arrest, appearing "businesslike" in the words of one officer. Purdy also breached restraining orders in harassing Denise and her boyfriend before the killing, and breached a court order in contacting Whyte while in jail after.
"This is not simply a person who is headstrong, he simply does what he wants," Taylor said. "He is unrestrictable."
Purdy, however, had no criminal background at the time of the murder.
He, his lawyers and his supporters have long argued his conviction was the result of bungled police work and that he was not responsible for his wife's death.
Purdy suggests investigating RCMP officers may have contaminated the scene of the crime and Whyte's Ford Explorer.
"This whole case has been a shambles, basically, even from the start," he told the Nanaimo Daily News.
He has sought DNA testing of police officers to eliminate them from the DNA evidence.
He also says he has exculpatory evidence from two DNA experts, excluding him from the crime scene and the blood in the vehicle, that never came up at trial and has not been seen by appellate courts.
The main thrust of his original defence, however, and still what he and his supporters contend, was that Panet was responsible for the crime and had essentially framed him.
Panet flatly denied this hypothesis and the RCMP have said no evidence has ever led them to consider Panet as a suspect.
Purdy took his case to the B.C. Court of Appeal in 2008 on the grounds that police concentrated exclusively on building a case against him and ignored other possible suspects.
His nine-year-old daughter's testimony — in which she said she heard her dad threaten to kill her mom — should not have been admitted at trial or at least the jury should have been warned about it because police prejudiced her against him, Purdy submitted. He also sought to introduce fresh evidence in support of a new trial.
That appeal was dismissed, as was an application to reopen the appeal in 2010.
He then tried the Supreme Court of Canada, also filing motions for the provision of legal counsel due to his indigent stat-us, access to a computer because he was representing himself and access to his case files, which he says he have been kept from him by the Correctional Service of Canada.
That leave to appeal was also dismissed.
While Purdy represented himself to the Supreme Court, Toronto lawyer Philip Campbell offered his services as court-appointed counsel if the leave to appeal were granted.
But Campbell denied having further involvement in the matter, saying: "I am not now and have not been counsel to Mr. Purdy."
He said the ministerial review sought by Purdy is an unusual application and one that normally requires new evidence.
"A DNA report not previously considered by a jury could qualify as new evidence but it would also have to persuade the minister … that there is 'a reasonable basis to conclude that a miscarriage of justice likely occurred,'" Campbell said in an email on Friday.
Campbell is a member of the Association in Defence of the Wrongly Convicted and has worked as counsel on a number of wrongful conviction reversals in Ontario and in the Maritimes.
An AIDWYC representative in Toronto confirmed Purdy's case was being reviewed for possible adoption, which is a long process but one that could ultimately provide him with legal counsel.
Asked where he realistically sees himself in five years, Purdy said in an interview that he hopes his conviction will have been overturned with the DNA evidence to which he makes claims.
"On the off-side, I always have to look that my parole's not set for another 11 years, so might have to be stuck in here," Purdy said of prison, which he likens to the television shows Oz and Prison Break.
"A lot of wrongful conviction cases, it's 15 to 20 years, 22 years, before people are released. I received life to 19, so it could be a while before any of this gets cleared up."
Purdy said he has about 175 family members behind him in his fight.
He is close to an aunt in Nanaimo and speaks to her on the phone about once a week and she visits several times a year.
"I know he hasn't done anything. I'm very close to my nephew, he's sort of like a son to me," Cathy Tait, Purdy's aunt, said by phone this week.
"Everything was circumstantial, but they just went with that. … Where's the murder weapon? Where's the clothing?"
Tait wondered why, if Purdy is guilty, he would go to such extremes to prove his innocence. She said it's like time has stood still since his conviction and that even though her life goes on, nothing has ever been the same again.
Purdy also chats with his biological and adoptive parents and keeps in touch with his eldest daughter in Ontario, who reconnected with her long-lost father only after he had been sent to prison.
Amanda Schmitz, a 20-year-old woman from Cornwall, Ont., said she was shocked to learn her biological father had been convicted of murder but started to believe in him once she examined his case, believing the gas station tape to have been tampered with.
"(The courts) should at least look over the evidence. … It's almost as if the government made their mistake, they realize it and they don't want to let him out because they don't want to admit to the fact they made a mistake," said Schmitz, who talks to Purdy once a week.
The only family members Purdy doesn't keep in touch with are his two youngest girls, who were three and nine at the time of their mother's death and are now living with her side of the family, he said.
As for life in the penitentiary, Purdy said he just tries to survive. He's been working on his memoirs of late, but is stuck fine-tuning the last eight years of his life.
Purdy will be eligible for parole on Dec. 12, 2022. At that time, he will be 54 years old.
KELVIN PURDY'S ROAD TO PRISON
Dec. 12, 2003
6:15 a.m.: Jennifer Whyte, Kelvin Purdy's girlfriend, wakes up in their Duncan apartment and finds him absent, with her cellphone and Ford Explorer missing.
6:23 a.m.: The first police officer is dispatched to the 6400 block of Lasalle Road in Nanaimo after reports of screaming.
7:13 a.m.: Purdy is seen on a security tape at a Duncan gas station. 8:30 a.m.: Purdy is arrested by North Cowichan/Duncan RCMP at Cowichan District Hospital, where he had just received six stitches for a cut on the back of his hand.
April 22, 2004: Purdy is denied bail.
September 2004: A preliminary hearing is held in provincial court and Purdy is committed to stand trial in B.C. Supreme Court on a charge of second-degree murder.
Sept. 6, 2005: A jury of three women and nine men is selected and shortly thereafter begin hearing evidence.
Oct. 14, 2005: Purdy is convicted of second-degree murder.
Nov. 25, 2005: Purdy is sentenced to life in prison, with no parole eligibility for 19 years.
Dec. 11-12, 2007: The B.C. Court of Appeal hears Purdy's case.
March 7, 2008: The B.C. Court of Appeal issues a judgment dismissing the appeal.
July 22, 2011: Application for leave to appeal made to Supreme Court of Canada.
Feb. 2, 2012: Motions to the Supreme Court of Canada are dismissed.
We thought you might also be interested in..