Air Canada asks labour board to intervene after weekend disruptions
Mar 19 2012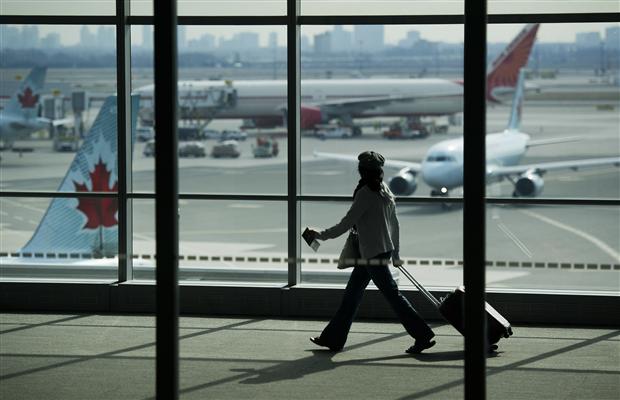 MARCH 18 - A traveller passes Air Canada planes at Pearson International Airport in Toronto, Sunday afternoon. Many flights in and out of Pearson were cancelled and delayed today, many of them by Air Canada which has reportedly been affected by pilots phoning in sick. A small electrical fire overnight closed one of five runways at Pearson, which also affected arrivals and departures.
Photograph by:
Aaron Lynett , National Post
TORONTO — Air Canada has asked the government's labour relations board to intervene after an unusually large number of pilots called in sick on a busy spring-break weekend, contributing to numerous flight cancellations, Canada's largest airline said on Sunday.
Spokesman Peter Fitzgerald said the airline experienced "numerous delays and cancellations" over the weekend.
"While weather, a disruption caused by a fire at our major hub in Toronto, and other factors affected our operation, some impact was the result of a higher-than usual pilot book-offs," he said in an email.
"While Air Canada supports the right of its employees to book off when they are unwell or otherwise unfit to work, we cannot condone such activities as part of industrial action to disrupt our operations and we have asked the CIRB (Canadian Industrial Relations Board) to intervene."
The pilots' union did not return messages Sunday asking for comment.
Air Canada has been in dispute with several of its unions, including its pilots, as it seeks to cut costs and change the way it operates.
Arguing an Air Canada work stoppage could damage the economy's fragile recovery from recession, the government intervened last week to prevent both a lockout of the pilots by Air Canada and a planned strike by the airline's machinists.
It first referred the two disputes to the CIRB and then passed back-to-work legislation that sends the disputes to binding arbitration.
The pilots said on Friday they planned to challenge the legislation through the courts.
The Aeroports de Montreal website showed that five Air Canada flights departing Montreal's airport Saturday were cancelled, five suffered long delays and more than a dozen flights had delays of one hour or less. Some delays remained Sunday but the situation there seemed to clear up. But other airports were still feeling the effects of disruptions at Pearson.
It could have been worse. A strike or a lockout could have grounded Air Canada before the spring break holiday week, when many schools close and families seek vacations in the sun.
Fitzpatrick could not say how many flights had been cancelled over the weekend, or how many passengers had been affected.
Meanwhile, officials blamed foggy weather and a late-night fire for cutting capacity by 20 per cent when one runway at Toronto's Lester B. Pearson International Airport had to be temporarily closed.
According to Greater Toronto Airports Authority spokesman Scott Armstrong, the fire caused electrical problems that shut down runway lights and, coupled with low morning visibility, rendered one of Pearson airport's runways unusable.
The closure resulted in several delays and cancellations Sunday, a peak travel day for many Canadians at the end of March break.
Once the fog lifted in the late morning, officials were able to reopen the runway.
Even after the runway was back in service, Armstrong said travellers should be sure to check with their airline in case of delays.
According to the spokesman, the airport hoped to have the runway lights working again later in the day.
Dozens of passengers had long waits at Vancouver International Airport on Sunday to find out if they could rebook cancelled Air Canada flights.
"I guess we're held up indefinitely," said a frustrated Adam Bielinski, trying to make it back to Toronto for work on Monday. His connecting flight to Edmonton had been cancelled. The cancellation had spoiled the mood from a week-long ski trip at Whistler, B.C., with two friends.
He and his friends were hoping for a direct flight to get them home as quickly as possible, but they had moved little in line in an hour.
"I'm panicking," said a nervous Shamim Hirji, trying to make it home to London, Ont., for Monday.
Most passengers only learned of their cancellations when they arrived at the airport.
With files from the Vancouver Sun
We thought you might also be interested in..