Vancouver airport passengers face delays after cancelled Air Canada flights
Mar 19 2012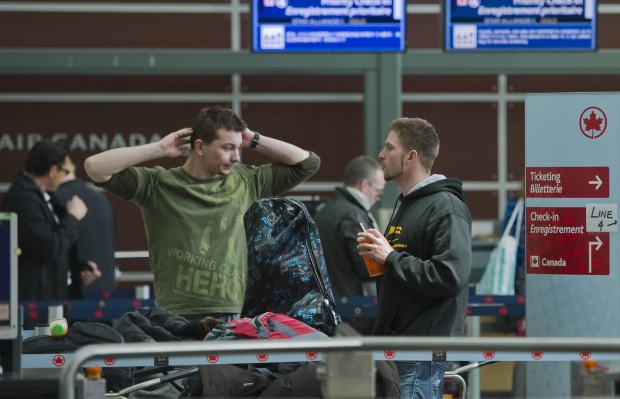 VANCOUVER, B.C.: MARCH 18, 2012 -- An Air Canada airplane taxis at Vancouver's YVR airport. Some flights were showing delays after an unusually high number of pilots called in sick and other operational issues
Photograph by:
Ward Perrin , PNG
VANCOUVER — Air Canada disruptions during the weekend that included a more-than-usual number of pilots calling in sick caused cancelled flights in Vancouver and other Canadian cities.
As many as two dozen flights were cancelled, including six flights on Sunday arriving into Vancouver and three departing from the city.
At Victoria International Airport, one Air Canada flight was delayed Sunday evening.
However, airport spokesman Terry Stewart said he had not been notified by Air Canada of flight delays arriving or departing from Victoria due to pilot staffing.
"We would have had some information on that, but as it stands, we haven't been told of any impact," Stewart said.
Air Canada has applied for an injunction to the Canada Industrial Relations Board for relief against the pilots' union.
Most of the weekend, the airline would only say that they were experiencing "operational difficulties" on the peak travel weekend, which is the end of spring break for many B.C. elementary and high school students.
But on Sunday afternoon, Air Canada confirmed that pilots phoning in sick was partly responsible for the delays and cancellations.
"Air Canada experienced numerous delays and cancellations over the weekend. While weather, a disruption caused by a fire at our major hub in Toronto, and other factors affected our operation, some impact was the result of a higher-than usual pilot book-offs," said Air Canada spokeswoman Angela Mah.
"While Air Canada supports the right of its employees to book off when they are unwell or otherwise unfit to work, we cannot condone such
Pilots are angry the federal government intervened in a labour dispute with back-to-work legislation, sending the two sides to binding arbitration.
Dozens of passengers had long waits at Vancouver International Airport to find out if they could rebook cancelled Air Canada flights.
"I guess we're held up indefinitely," said a frustrated Adam Bielinski.
He was trying to make it back to Toronto for work on Monday. His connecting flight to Edmonton had been cancelled.
The cancellation had spoiled the mood from a week-long ski trip at Whistler with two friends.
He and his friends were hoping for a direct flight to get them home as quickly as possible, but they had moved little in line in an hour.
"I'm panicking," said a nervous Shamim Hirji.
A denist, Hirji was trying to make it home to London for Monday.
Most passengers only learned of their cancellations when they arrived at the airport.
Maria Kalinina was facing the possibility of missing connections to England and Russia because of the cancelled Edmonton flight.
She was trying to remain positive but her travelling companion Alexey Kalinin said if they missed their connection in Edmonton, where they only had a three-hour layover, they were "screwed."
— With a file by Kim Westad of the Times Colonist
We thought you might also be interested in..