Craigflower Manor in dire straits
Mar 20 2012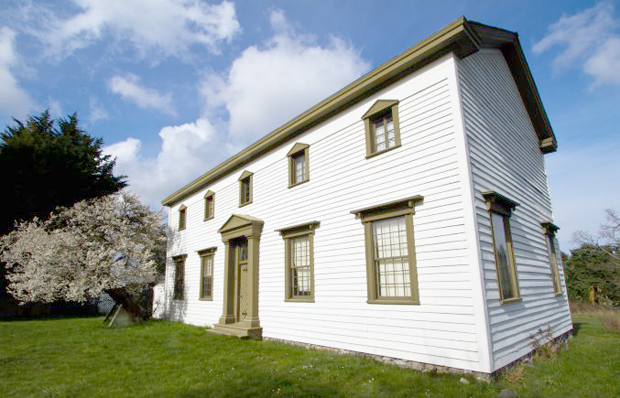 Craigflower Manor has been closed to the public since 2009, when a fire caused $200,000 in damage.
Photograph by:
Darren Stone , timescolonist.com
Historic Craigflower Manor is "losing money like crazy" and The Land Conservancy, which operates the house museum, is looking for new ways to bring visitors and funds to the View Royal landmark. "It doesn't get enough visitors to keep it going," said Ian Fawcett, TLC deputy executive director.
TLC, which manages Craigflower for the provincial government, was planning a grand reopening of Craigflower Manor this summer after a 2009 fire, blamed on a space heater, caused $200,000 damage to the province's third-oldest building.
The 1853 structure, at Craigflower Road and Admirals Road, has been closed since the fire and restoration is not finished.
But with replacement of the nearby Craigflower Bridge starting in June, there will be limited access to the manor farmhouse and it will have to remain closed for the rest of the year.
That means even the limited income brought in by visitors will not be available - and that is speeding up a rethinking of Craigflower Manor's role, Fawcett said.
"This is forcing us to look at this issue now, rather than next year. We're going to have to do a rethink of the site, because it's not economically viable. - We're looking at opening it up to more community use," he said.
After the bridge is replaced, it will be more awkward to reach the parking lot, which has access off Admirals Road. That makes it essential that people are drawn to the site for other things, Fawcett said.
Ideas include a coffee shop or other food service, expanding the community garden program and emphasizing Craigflower Manor's historic agricultural role by opening a market garden. It is likely other ideas will come from the community, Fawcett said. "It is waterfront, so there are all kinds of possibilities."
It is likely construction would be required and buildings would have to be compatible with the site, Fawcett said. That would require financial help from the province.
"We need to sit down with the province very, very soon and see what is possible," Fawcett said. "We need seed money and investment to make this work."
Craigflower Manor costs TLC about $150,000 a year to operate. "That's bare bones, with a couple of staff. It's not enough to operate it properly," Fawcett said.
Before the fire, it was drawing about 5,000 to 8,000 visitors annually. Between 15,000 and 20,000 would be needed for TLC to rely on gate revenue, he said.
The new approach could include an educational program at nearby Craigflower Schoolhouse, also managed by TLC.
Ideally, it would run through school districts and centre around immersion in Victoria's early history and historic use of the Gorge, with emphasis on the environment and the region's agricultural history, Fawcett said.
View Royal Mayor Graham Hill said he would wait and see what ideas are put forward. "Craigflower Manor is an iconic linchpin of our heritage," he said. "We are always looking at the highest and best use of preserving its value."
TLC took over management of the manor and schoolhouse in 2003 as part of B.C. government plans to remove itself from daytoday operation of historic sites.
jlavoie@timescolonist.com
We thought you might also be interested in..
Notice
: Undefined index: event in
/home/viccity/public_html/v2/content.php
on line
67