Burnaby RCMP crack massive credit card and identity theft case
Mar 21 2012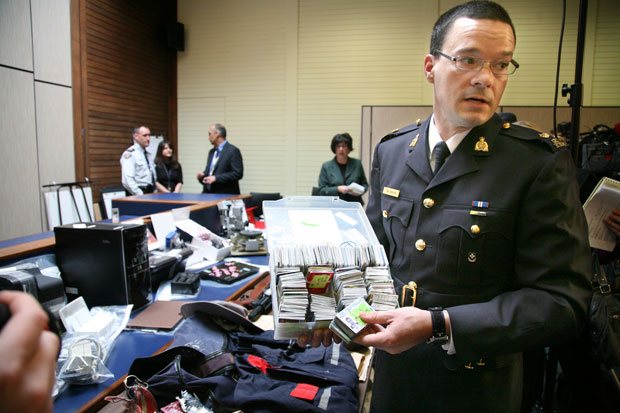 Burnaby RCMP Insp. Tim Shields shows off some of the items police seized in a Metrotown condo that they believe is part of a massive identity theft ring.
Photograph by:
Jason Lang , BURNABY NOW
Burnaby RCMP Insp. Tim Shields calls it the largest identity theft operation in recent memory.
After a March 7 raid at an 11th-floor Metrotown condo, police seized a large quantity of items used to create fake identities, credit cards and other personal information cards.
Police arrested 29-year-old Anthony Pavos Stulec and his 21-year-old common-law wife Stephanie Jean Smyth and the two now each face 19 fraud-related charges. Smyth has been released on a promise to appear while Stulec's next court date is April 4.
"This is very big. This is very significant," said Shields. "Personally, I haven't seen a file of this magnitude."
Police started the investigation after a card printer was taken in to a store for servicing and a forged credit card was found inside the printer. When the man who brought the printer in came to pick it up, police followed him to his Metrotown residence.
After police obtained a search warrant for that residence, they discovered a massive amount of items that could be used in illegal activities.
Among the items seized were 15 hard drives, data storage devices, a printer/scanner, several large boxes of stolen mail, hotel receipts, passports, payment and identity documents, a credit card printer, an embosser, a foil stamp, a Canada Post bag and jacket, break-and-enter tools, a small amount of drugs, including ecstasy and marijuana, a Taser, three air rifles and two pellet handguns.
When police started going through three of the 15 hard drives, they discovered more than 44,000 identities, including social insurance numbers and personal information, along with 80,000 credit card numbers.
When investigators looked further into those identities, they were able to connect them to 80 break-and-enters in Burnaby and the Lower Mainland.
The hotel receipts were also a key piece of evidence because they contained photocopies of customers' credit card and driver's licence information when they check in. Shields said the stolen hotel receipts came from a Sandman hotel in Surrey and a Ramada hotel.
With that information, someone could create new identities and apply for credit cards and other identity documents.
Shields said investigators have only been working on the seized items since March 7 and they have no idea how large scale the whole operation was.
"The investigation is ongoing," he said. "We will investigate for months to come.
"We have cut off the tentacles ... but there are many other tentacles to this monster.
"The tentacles reach out to all parts of the Lower Mainland."
Shields said police don't even have any idea of how many potential victims there are, simply because investigators are still going through evidence.
"There could be thousands of victims," he said. "We've only looked through three of 15 computers."
Shields said another component of the investigation is looking at how stolen mail and the Canada Post uniform played a part in the case.
Shields said the arrests highlight the need for the general public to always safeguard their personal information.
"Don't leave your purse or identification documents in your vehicle," he said. "And don't thrown your personal mail in the garbage. That needs to be shredded."
Click here to read more stories from the Burnaby Now.
We thought you might also be interested in..