Five teenagers rescued after two nights stranded in woods near Lake Cowichan
Mar 22 2012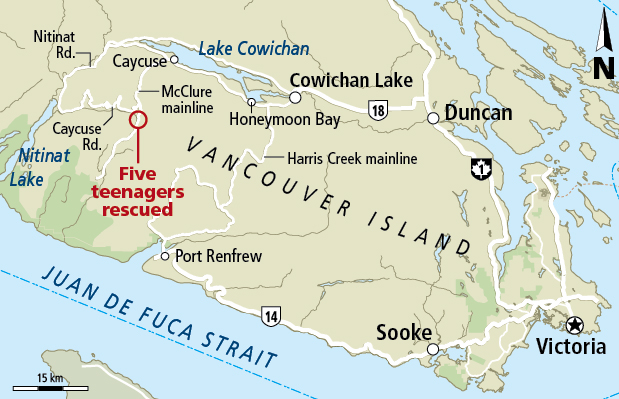 .
Photograph by:
. , timescolonist.com
Five teenagers — four from the Cowichan Valley and one from Langley — survived two nights in the woods without emergency essentials after the pickup truck they were riding in ran out of gas in the woods southwest of Lake Cowichan.
A snowstorm complicated their rescue early Wednesday, which was completed by volunteers from the Sno-Blazers snowmobile club, based in Nanaimo.
Two 17-year-old females, one 18-year-old male and two 19-year-old males went for a drive Monday night onto the McLure Mainline logging road, 14 kilometres from Caycuse. The vehicle ran out of gas and the teens had no emergency equipment such as candles, blankets, appropriate clothing, food or water.
There was no cellphone coverage so they could not call for help, said Cpl. Warren Potter of Lake Cowichan RCMP.
On Tuesday, one of the males walked 20 kilometres to Caycuse, and telephoned his father for help. But a snowstorm had moved in, and the father and son were unable to reach the others.
About 11 p.m. Tuesday, a search started with members from Cowichan Search and Rescue and three members of the Sno-Blazers.
It took about 90 minutes for the snowmobilers to reach the stranded truck, said Rob Hanna, president of the Sno-Blazers.
"It was fairly tough going," Hanna said.
En route to the stranded group at 4 a.m. Wednesday, the searchers found the two females, who had walked several kilometres in an attempt to get out and had collapsed in the snow, Hanna said.
One was wearing sandals with no socks, said Mario Gauvin of Cowichan Search and Rescue. They were rescued and treated for hypothermia and foot injuries.
The snowmobilers went back for the two remaining males and took them to the Caycuse fire department by 6 a.m. They were then taken to hospital for routine examinations.
Caycuse Fire Chief Bruce Wilson said the department had tried to reach the teens, but "broke the four-wheel drive in two feet of snow."
The teens were fortunate to survive the event relatively unscathed, Potter said. "This case should stand as an example of what not to do," he said in a statement. "Always let someone at home know where you are heading and when you will return. If you plan to venture into remote areas, ensure you are prepared to spend more time than you expect."
He urged anyone going into remote areas to take emergency equipment, including extra fuel.
smcculloch@timescolonist.com
We thought you might also be interested in..