B.C. teachers to consider illegal strike in challenge to Bill 22
Mar 22 2012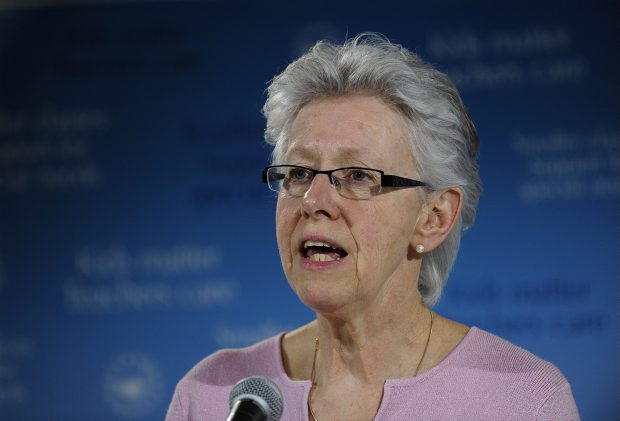 BCTF president Susan Lambert
Photograph by:
Postmedia News, timescolonist.com
The B.C. Teachers' Federation will conduct a provincewide vote to ask its 41,000 members if they want to walk out or take less serious job action such as not taking part in coaching and other extra-curricular services.
The vote is set to take place April 17 and 18.
It's the latest salvo in a protracted contract dispute pitting the teachers against the provincial government, which ordered an end to work disruptions by teachers with the passage last week of Bill 22. The bill, which came after a three-day strike by teachers earlier in March, calls for a six-month "cooling-off" period without any job action.
The BCTF has been highly critical of Bill 22, and said today it will mount a legal challenge to the legislation.
Both the vote and the prospect of legal action are part of what the BCTF called a "bold plan of action" against the government that has come out of the group's annual general meeting this week in Vancouver.
About 700 delegates from B.C.'s 60 school districts were part of the gathering.
Also part of the plan is rejection of a clause in the bill that calls for teachers with classes exceeding 30 students to receive extra pay. Newly re-elected BCTF president Susan Lambert said what teachers have called the "cash-for-kids" clause is unethical.
Making the defence of public education an issue in the next provincial election is another major point for teachers.
"We're putting government on notice," said Lambert. "Government can rethink this legislation. Government can take the higher ground. Government has the choice, it has the power and it has the right."
Teachers will be working as usual on Monday, when students across B.C. return from spring break, but Lambert said the BCTF will talking about concerns for the education system.
"We are going to take our plan out the public, we are going to talk to the public about the implications of Bill 22.
We thought you might also be interested in..