More buses put on to relieve lineups
Mar 23 2012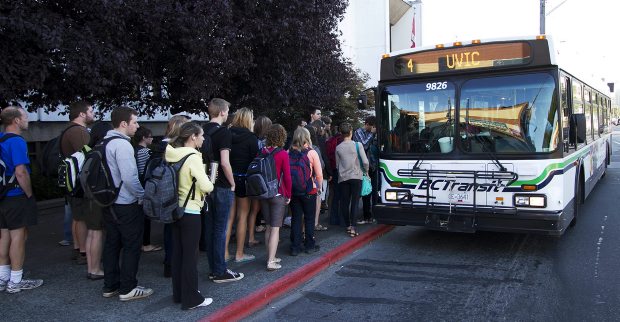 More runs at peak times will leave fewer riders behind.
Photograph by:
Adrian Lam , timescolonist.com (2011)
Fewer riders will be left behind by packed buses this year, after an extra 5,000 hours of bus service was approved Thursday.
The Victoria Regional Transit Commission dipped into reserve cash to provide the additional buses, while freezing fares and transit taxes.
HandyDart, whose riders often have to wait two weeks for service, will see an extra 2,000 hours on the road.
About $319,000 from reserves will pay for the return of 7,000 hours cut from last year's budget.
The money will pay for service to help eliminate pass-ups, when riders are left behind because buses are too full.
Transit staff are looking at additional runs during peak hours on peak days for several routes, including the No. 4, No. 39 and
No. 21, where passengers are regularly left at the curb. The routes largely serve students attending Camosun College and the University of Victoria, said Transit spokeswoman Meribeth Burton.
Extra service hours will also relieve pressure on the popular HandyDart service, which has not been able to keep up with demand.
Transit has been using taxis to fill the gap. The agency hopes to reduce demand for HandyDart by raising awareness that conventional transit can meet the needs of people with mobility issues, said Burton.
Most regular buses no longer have steps at their entry doors, can lower doorways to curb height, and have ramps that allow people using wheelchairs to board.
As for the tax and fare freeze, taxpayers and bus riders deserve a break, said several commission members, including Victoria Mayor Dean Fortin and Saanich Mayor Frank Leonard. They said there have been enough increases in the past two years.
Homeowners paid on average about $120 in transit taxes in 2011-12, after a hike that averaged about $28 per household.
"We jacked up the property taxes to all homeowners out there, we jacked rates to all the riders. We need to give the riders and, maybe more importantly, the residents a break," said Fortin.
Commission members provided a slight reduction to the rate business owners pay for transit. Currently, commercial rates are five times higher than homeowners' rates.
This year's business-assessment ratio falls to 4.85, a symbolic gesture by commission members who say they plan to cut the rate even further. "This change is a sign of good faith in that we intend to bring it down," Leonard said.
dspalding@timescolonist.com
We thought you might also be interested in..
Notice
: Undefined index: event in
/home/viccity/public_html/v2/content.php
on line
67