Sewage spill closes Cordova Bay beach
Mar 23 2012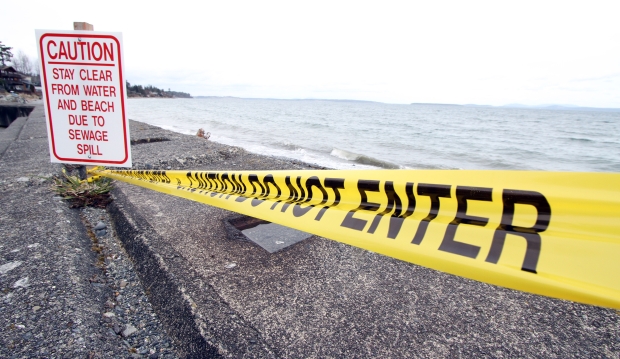 A sewage spill has forced the closing of Cordova Bay beach.
Photograph by:
Bruce Stotesbury , timescolonist.com March 2012
A Cordova Bay beach remains closed to the public today after 30,000 litres of sewage gushed out of a broken pipe near one of Saanich's main pump stations.
Some area residents are demanding a full environmental assessment and say they should have been personally notified of the spill.
Saanich public works staff discovered the broken pipe almost as it happened about 9:30 a.m. Wednesday, said Mike Ippen, manager of Saanich public works. Crews arrived at the pump station at the corner of Haliburton Road and Lochside Drive for regular maintenance and could see and smell the break.
The pressurized pipe is four metres in the ground, so excavators had to work quickly to dig down to it, Ippen said. The effluent still coming through the system had to be diverted to eight tanker trucks while crews fixed the pipe. The trucks took the waste to a nearby pump station.
The break in the 30-year-old pipe — which isn't thought of as very old for a pipe — has been fixed and the municipality will investigate what caused it, Ippen said. It is the third time in 12 years that a sewage pipe has broken in Saanich.
Ippen estimates about 30,000 litres of waste came to the surface, leaked into storm drains and flowed to the outfall at the beach in the 5,000-block of Cordova Bay Road.
The road and sidewalk near the spill were hosed down, Ippen said.
The beach has been closed and is marked with signs and yellow tape. It will remain closed until the Vancouver Island Health Authority completes tests on contamination.
While not officially a public beach, it is used every day by locals, say neighbours.
Sylvia Burkhardt is unhappy with how Saanich dealt with the break, saying officials should have notified residents about the rupture and effluent.
"They forgot to notify a whole group of people — those who pay the taxes. Nobody from Saanich came to my door," said Burkhardt, who walks the beach every day with her dog. "I want an environmental impact report done for the Saanich community, and for taxpayers along the beach."
Ippen said they followed policy in dealing with the rupture, which is to notify the Provincial Emergency Program and the regional health authority.
"We would have notified residents if there was any risk to their wastewater collection system but there wasn't," Ippen said.
To take crew members away to knock on doors and tell residents would have taken them away from dealing with an emergency situation, he said.
"Was it perfect? Probably not, but we were in the middle of an emergency."
Health authority spokeswoman Shannon Marshall said environmental health officers have been on site and took samples of beach water.
"The beach will remain closed until we get those results, likely on the weekend," Marshall said.
kwestad@timescolonist.com
We thought you might also be interested in..