"Late night lumberjack" takes chainsaw to tree in Vic West
Mar 23 2012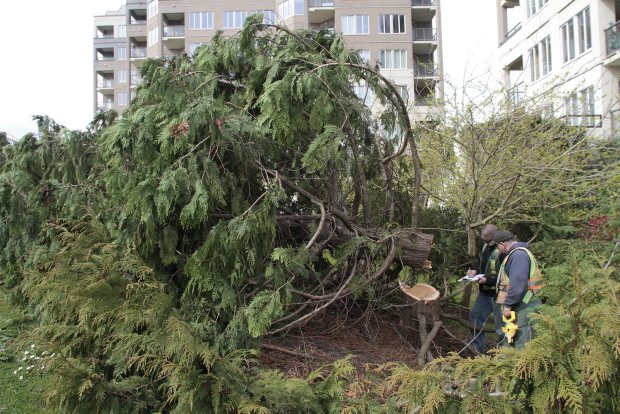 City of Victoria Parks employees inspect a 25-year-old Western Red Cedar cut down at 203 Kimta Rd. in Vic West on Thursday.
Photograph by:
Lyle Stafford , timescolonist.com (March 2012)
Victoria police said the "late night lumberjack" who took a chainsaw to a 12-metre tree in Vic West early Thursday morning may have been trying to improve their view of the Inner Harbour.
Around 1 a.m., a witness called police saying she was awaken by the sound of a chainsaw coming from Lime Bay Park in the Songhees area. She also noticed a large Douglas fir shaking as if it was being cut down, said police spokesman Const. Mike Russell.
Patrol officers and a dog team rushed to the scene but the rogue lumberjack had fled.
The tree is left with deep cuts and city crews are going to inspect whether it needs to come down.
"We do suspect the motivation for cutting down this tree may to be to improve someone's view of the waterway so we are certainly investigating that," Russell said.
"If caught, the person could face fines under the city bylaw."
We thought you might also be interested in..