Extra buses can't arrive too soon
Mar 24 2012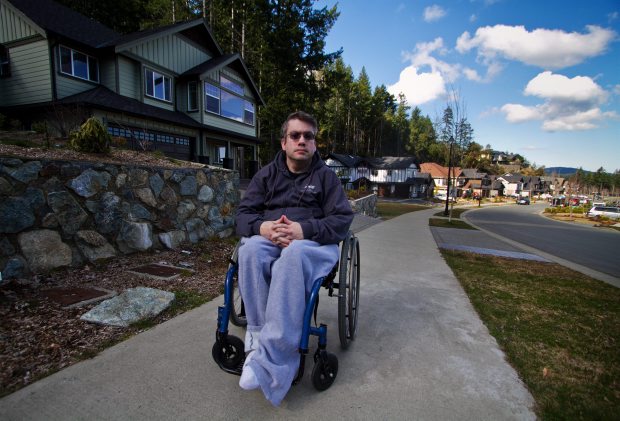 Sean Stewart says there have been several instances in the past two months when B.C. Transit's HandyDart service has been unavailable for scheduled trips due to backlogs in the system.
Photograph by:
Darren Stone , timescolonist.com (March 2012)
Cerebral palsy had made it so Sean Stewart can't drive, and now, he says, insufficient funding has made the government-subsidized HandyDart buses he depends on painfully unreliable.
Passengers in Greater Victoria have to book their trips on the door-to-door service two weeks in advance because of a backlog in the system.
The problem with the service - used by people with permanent and temporary disabilities - is recognized by B.C. Transit, which expects to complete a review of the service by fall.
"I rely solely on HandyDart to get around," said Stewart, who volunteers at the Victoria Disability Resource Centre twice a week. He books his trips two weeks in advance and follows up with a confirmation the afternoon before the scheduled trip. Several times in the past two months, there has been no service available, he said.
Without HandyDart, he said, "I don't get out of the house."
Victoria Regional Transit Commission agreed Thursday to provide an additional 2,000 HandyDart hours - for a total of 120,000 hours in 2012-13 - to improve bus availability. Transit predicts this will add 4,500 trips, bringing the total to almost 300,000, and reduce wait times by a third.
Staff at the Victoria Disability Resource Centre regularly see the frustrations of passengers like Stewart, who use HandyDart every time they leave the house.
HandyDart staff "do what they can," said Erin Davis, program coordinator at the centre. "If they can get to you, they will, but without enough money, there's not much they can do."
Her clients use subsidized programs that let them participate in a range of activities, whether it's going to the gym or volunteering in their communities. Those plans, however, often get stifled by the lack of HandyDart service.
"People in wheelchairs tend to not participate in leisure activities in the community, so we have all these programs that can give them the financial help and the opportunities to participate, but if they can't even get there, it's a bit of a pain," Davis said.
Wait times in other B.C. communities are not nearly as long, according to Transit.
Passengers using Central Fraser Valley Transit wait two days, while those in Kelowna book one day in advance.
In the Capital Regional District, there seems to be fewer trips available for clients in the West Shore, Davis said. Transit says 75 per cent of users are from Victoria, Esquimalt and Saanich, but staff said they are unaware of areas experiencing more difficulties than others.
"Our HandyDart service is experiencing difficulties everywhere in the region, but to our knowledge, there isn't a service issue in any one area," said Transit spokeswoman Meribeth Burton.
Transit is reviewing its HandyDart program to identify other ways of improving the system.
It already has a taxi-supplement program that pays for trips in emergency situations, such as hospital visits, while the Taxi Saver Program lets people buy subsidized coupons to pay for their fares.
The ideal transit model, however, would be to fully integrate all passengers into the regular fleet of buses, which is completely wheelchair accessible, Burton said.
dspalding@timescolonist.com
We thought you might also be interested in..