Owl hit by vehicle takes wing again
Mar 24 2012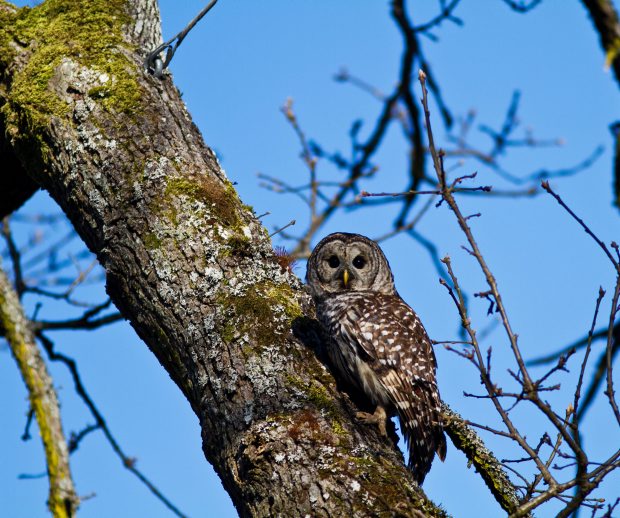 The barred owl had blood in its eyes and nose, bruising on its wings and severe head trauma when it was found.
Photograph by:
Darren Stone, timescolonist.com (March 2012)
She was bloody, bruised and had a head injury when she was picked up in Oak Bay Feb. 4.
But the barred owl, which has been recovering at the B.C. SPCA's Wild Animal Rehabilitation Centre since her accident, is now back in the air.
The owl was released Friday afternoon near Beach Drive, where she was picked up after apparently being hit by a vehicle.
"There was blood in her eyes and nose, a lot of bruising on her wings and severe head trauma. She was pretty critical," said Wild ARC manager Kari Marks.
"Our biggest concern was whether her vision was damaged - that's pretty important for owls - but she's now got really good flight and good eyes. She's doing really, really well," Marks said before the release.
Owls often end up at Wild ARC in winter because drivers do not see them at the edge of the road, she said.
The majority of those taken in are barred owls, whose numbers have been increasing on Vancouver Island since the species moved east of the Rockies in the late 1960s, Marks said.
"Of the five owl species and 34 individuals the Wild ARC took into care in 2011, 23 were barred owls," she said.
However, there are downsides to the increasing number of barred owls, Marks said.
"While the barred owl is a beautiful addition to our southern Vancouver Island bird life, its arrival has not been good news for some of the smaller species upon which it preys, including the northern saw-whet owl," she said.
Owls will be on display at the Wild ARC's open house March 31 and April 1 from noon to 4 p.m.
The open house will also feature the launch of a new book, City Critters: Wildlife in the Urban Jungle by author Nicholas Read.
The open house is a rare opportunity to learn about the work of wildlife rehabilitators and volunteers, Marks said.
Reservations are required and visitors are asked to bring a gift for the animals from the Wild ARC wish list.
For more information, go to spca.bc.ca/tourwildarc.
jlavoie@timescolonist.com
We thought you might also be interested in..