Man punches, kicks, spits on Saanich police officer
Mar 24 2012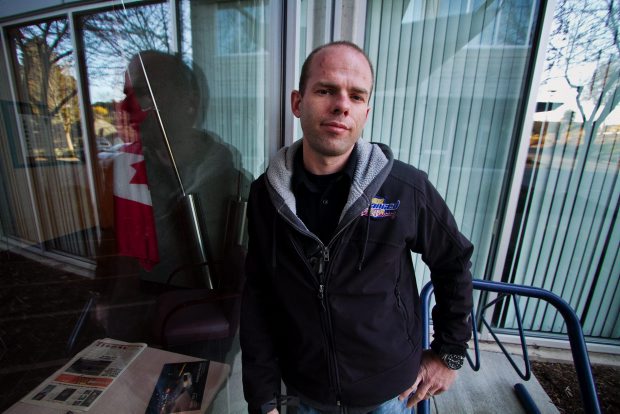 Saanich police Const. Ryan Austin is recovering after being punched, kicked and spit on by a man he was trying to arrest Thursday evening in Victoria
Photograph by:
Darren Stone , timescolonist.com
A Saanich traffic police officer was punched in the face, kicked and spat on by an erratic man fleeing from officers trying to break up a street fight Thursday evening.
Const. Ryan Austin, 41, said he and another officer responded to a church parking lot at Synod and Cedar Hill X roads around 7:30 p.m. after a man allegedly assaulted a man and a woman.
The assailant, a 24-year-old man, fled as the officers arrived. Austin tried to cut the man off with his car while his partner pursued first on foot, then by getting a ride from a passing motorist. Austin caught up to the man on Shorncliffe Drive and chased him on foot as he ran into the yard of a home.
"When I caught up to him and got a hold of him he turned around and swung at me," Austin said. The hard hit to the face sent both men tumbling down an embankment into bushes.
The two kept fighting, with the 24-year-old hitting and kicking Austin until Austin could gain control on top of the man.
"Once I got into a dominant position, he put his hands into his jacket which to me was a bit of a danger sign," he said. Austin backed away and pulled his weapon and shortly after, three officers arrived. It took all four to get the man in handcuffs and he spat blood onto Austin.
Victoria resident Allan James Tutube, 24, is charged with assaulting a peace officer. Tutube also faces a theft charge from an unrelated incident at Shelbourne Plaza.
Austin, who suffered cuts and bruises, will be off work for seven days to rest his back, which he thinks he twisted during the fall.
The 16-year veteran shakes off the attack and says it's one of the dangers that comes with the job.
"My injuries I wouldn't say they're anything unbelievable, I mean we had an officer in Victoria who almost had a finger cut off," he said, referring to Const. Lane Douglas-Hunt who was brutally attacked by Guy Hervé Séguin last March. "Cuts and scrapes and a sore back from fighting aren't the end of the world. But on a scale of aggressiveness, he was right up there."
But the incident left his wife and kids rattled.
"Definitely my wife gets concerned when things like this happen. She doesn't want to see me get hurt."
kderosa@timescolonist.com
We thought you might also be interested in..