K'ómoks agreement lays groundwork for future
Mar 24 2012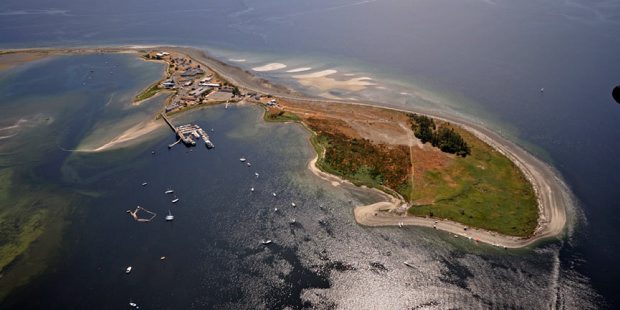 Access to the tip of Goose Spit, which is included in the K'omoks treaty lands, is still at issue. the Department of National Defence uses the middle part of the spit.
Photograph by:
Supplied photo , timescolonist.com
A deal that will set the K'ómoks First Nation on the road to independence and economic development will take a major step forward today.
K'ómoks Chief Ernie Hardy, federal Aboriginal Affairs Minister John Duncan and provincial Aboriginal Relations Minister Mary Polak are to sign an agreement in principle that will act as a road map for a final treaty.
"This is the first step toward a prosperous future for my people. This will be a historic day for the K'ómoks Nation, one I will be proud to witness," Hardy said.
"I am convinced the treaty will bring many direct benefits to our members and certainty to our many non-aboriginal friends, neighbours and business partners."
The agreement in principle, negotiated under the B.C. Treaty Commission, gives the 277-member band $17.5 million and more than 2,000 hectares of land around Courtenay and Comox, plus a water agreement.
"It gives us the green light to move ahead with final agreement negotiations," said band spokeswoman Melissa Quocksister.
So far, only two treaties have been implemented under the B.C. Treaty Commission - with the MaaNulth First Nation, on the west coast of Vancouver Island, and the Tsawwassen First Nation.
Three others have completed final agreements and two are in final negotiations.
Outstanding issues for K'ómoks, where band members voted 74 per cent in favour of the agreement in principle, include funding for education, health and social assistance programs and fish agreements.
The fraught question of access to reserve land on Goose Spit, where the Department of National Defence has a cadet camp, also remains.
The federal government has suggested that a new road be built to facilitate access without going through the military camp, but band members would like to use the existing road.
There are serious questions about DND's ownership of the land, Quocksister said, but the armed forces does not appear willing to move the HMCS Quadra military training base.
"DND claim ownership over it, but we consider it a lease to DND that was never reviewed after the 1960s. They just stayed there," Quocksister said.
The western tip of Goose Spit was added to treaty lands in 2010, after the band said it would be a deal breaker for the agreement in principle if it was not included.
"It used to be a sacred site for the burial ground for chiefs, but, in the early 1900s, DND used it as a firing range," Quocksister said.
The agreement in principle means the community can start discussing development, she said.
"It opens a lot of doors for the people of K'ómoks as far as developing the land and providing meaningful employment for our people," she said. "I would like to see people get careers out of this."
A final agreement could be completed in two to three years, Quocksister said.
jlavoie@timescolonist.com
We thought you might also be interested in..