Beach 'bomb' a dud
Mar 25 2012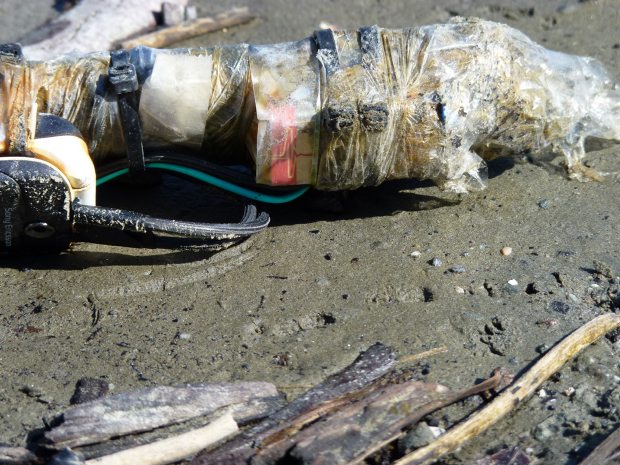 The RCMP's explosive-disposal unit will dispose of the device found on a beach in the Uplands area Friday.
Photograph by:
Supplied photo by Tyson Orser , timescolonist.com (March 2012)
A bomb look-alike found on a beach in Uplands turned out to be a dud, but it took an RCMP bomb squad from Vancouver to confirm it.
The explosive disposal unit arrived in Oak Bay about 8: 30 p.m. Friday evening but had to wait an hour and a half until the tide receded to destroy the device with a water cannon.
Three teens found the device - which had a nine-volt battery hooked up to a cellphone and wires wrapped in packing tape - on Friday afternoon. Oak Bay police cordoned off the beach at Exeter Road and Beach Drive as a precaution.
Acting Sgt. Davinder Dalep said the fake bomb will undergo a forensic examination.
Anyone found responsible could be charged with mischief.
We thought you might also be interested in..