D battery wrapped in duct tape causes bomb scare at UVic
Mar 26 2012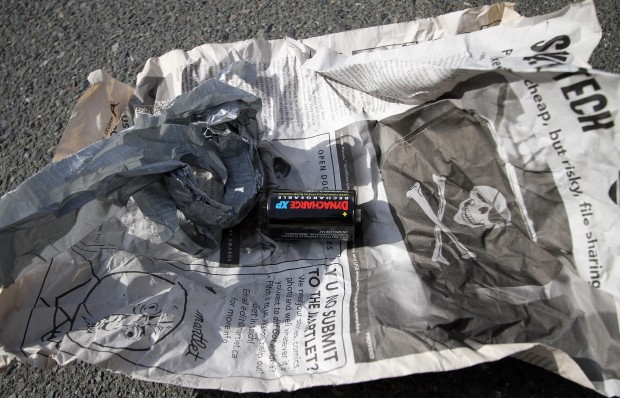 The suspicious object that caused all the commotion Sunday at the University of Victoria turned out to be this ordinary D battery, wrapped in duct tape.
Photograph by:
Adrian Lam, timescolonist.com
A suspicious device Sunday that resulted in the University of Victoria bus terminal loop being closed for more than five hours, traffic diverted, a building evacuated and the deployment of bomb specialists, turned out to be a D battery.
Wrapped in several layers of duct tape, "with a number of suspicious features to it," the battery was located on a lawn outside the campus library just after 10 a.m., Saanich Sgt. Scott Treble said.
The device was dropped off by a passerby at the university's campus security building. Police initially feared it might be some sort of improvised explosive device. And even after figuring out what it was, bomb experts could not immediately determine what the point of it was.
"It could be something completely innocent or intended to cause concern," Treble said. "We would be interested to hear from the person [who disposed of the battery] if it was innocent or if there was the intention of a hoax."
Sunday morning, police had evacuated the security building and locked down an area around it. The one-storey building is located beside the main bus terminal loop off Finnerty Road. Adjacent to a parking lot, it stands independently between the McKinnon Building and the Student Union Building.
Traffic was diverted from the bus loop. Bus passengers had to instead board and exit transit buses off Ring Road.
Police consulted with the RCMP explosive disposal unit in the Lower Mainland throughout the day.
Explosives specialists from the Saanich and Victoria police departments were called in to assist about 3 p.m. With the aid of both an X-ray instrument and a police dog, the device was deemed to be safe, Treble said.
By 4 p.m. Sunday, the area surrounding the security building and the bus terminal were reopened.
"There was never any risk to the public," Treble said.
On Friday night, the RCMP bomb squad came from Vancouver and used a water cannon to destroy a suspicious device that had been located by three teens on a beach in the Uplands earlier in the day.
That one had a nine-volt battery hooked up to a cellphone and wires wrapped in packing tape. Oak Bay police cordoned off the area at Exeter Road and Beach Drive as a precaution.
Acting Sgt. Dave Davinder said the Oak Bay fake bomb will now undergo a forensic examination. Anyone found responsible for it could be charged with mischief.
Saanich police are aware, of course, that Sunday's discovery falls closely on the heels of the device found Friday.
"It's certainly something we're aware of. But there is no reason at this early point to believe there is any connection ... based on the appearance and the place it was found," Treble said.
"There is nothing in terms of the type of device and the way it is put together to make any obvious association," Treble said.
The police "highly encourage" anyone who finds a suspicious and potentially explosive device to leave it where it is and phone police, Treble said.
Campus security has a call-forwarding service and was able to continue to deliver its normal services Sunday, Treble said.
ceharnett@timescolonist.com
We thought you might also be interested in..