Justice system doomed to fail without more money: report
Mar 27 2012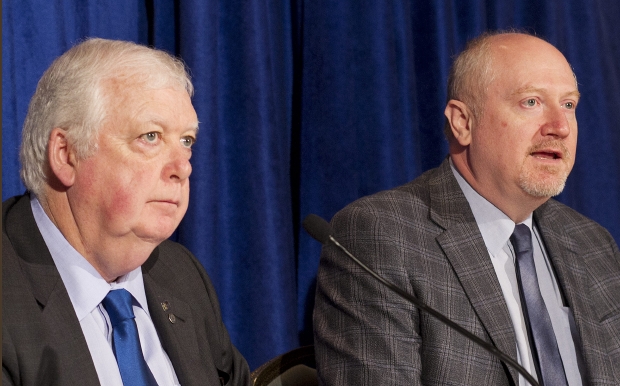 Darryl Walker, left, president of the BCGEU, and Robert Holmes, president of the B.C Civil Liberties Association address the media at a press conference at the Grand Pacific Hotel
Photograph by:
Adrian Lam , timescolonist.com (March 26, 2012)
The B.C. government's planned overhaul of a "justice system in crisis" will fail without new money to restore the system to 2001 levels, says a report released Monday by the B.C. Civil Liberties Association and the union representing corrections workers.
The report, titled Justice Denied: The Causes of B.C.'s Criminal Justice System Crisis, said budget cuts to the courts and criminal justice system since 2001, when the Liberals came into power, have caused overcrowded prisons, courtroom shortages, longer delays before trial, shrinking legalaid resources and fewer community programs for parolees.
Association president Rob Holmes estimated the government would have to dedicate $200 million a year to restore the criminal justice system to the funding it saw a decade ago.
The report found that since 2001:
- A 42 per cent budget cut for court services has occurred;
- Legal aid funding has been cut by 36 per cent, which means more than 7,000 people charged with crimes in 2010-2011 appeared in court without a lawyer;
- Delays before trials have increased 28 per cent in the last six years;
- The corrections budget has been slashed by 29 per cent;
- More people in provincial jails are awaiting trial than serving a prison sentence (59 per cent of the adult prison population and 55 per cent of youth);
- The ratio of inmates to officers is up to 60-to-1 in some institutions, compared with 20-to-1 in 2001.
Darryl Walker, president of the B.C. Government and Service Employees' Union, said the cuts in the last decade are evidence the justice system has been starved to its breaking point and countered claims by the government that the justice system is inefficient.
"The justice system is not bloated and it's not an inefficient bureaucracy," Walker said. "Yes, we need some strategies and thoughtful reforms. But we also need to invest in our justice system after many years of neglect."
The report says the system is handling 15 per cent more criminal cases than a decade ago, with 46,472 cases in 2008-2009 compared with 40,510 cases in 2001, according to Statistics Canada.
However, those figures are at odds with a green paper released by the B.C. Finance Ministry. That report says there's been a drop of about 19,000 in the number of new provincial criminal court cases compared with 10 years ago.
The Ministry of Justice said StatsCan uses a much smaller range of cases than B.C. does.
In February, the province announced a review of B.C.'s court system, led by Vancouver lawyer Geoffrey Cowper. He will present his findings this summer, and Premier Christy Clark has promised to act on the recommendations by the end of the year.
Justice Minister Shirley Bond said she will not pump money into the system before the government looks for ways to add more resources in the most efficient way possible.
"We've been very clear. Of course we're going to look at the issue of the justice system, but it is certainly is not going to be with a $200-million cheque from taxpayers in British Columbia," Bond said. "We're saying taxpayers deserve a discussion about this that's far broader than simply: 'Write a cheque and that will fix all the problems.' "
Holmes said the association is going to present its report to Cowper.
kderosa@timescolonist.com
We thought you might also be interested in..