Wild ARC releases healed otter on a secluded beach in Oak Bay
Mar 27 2012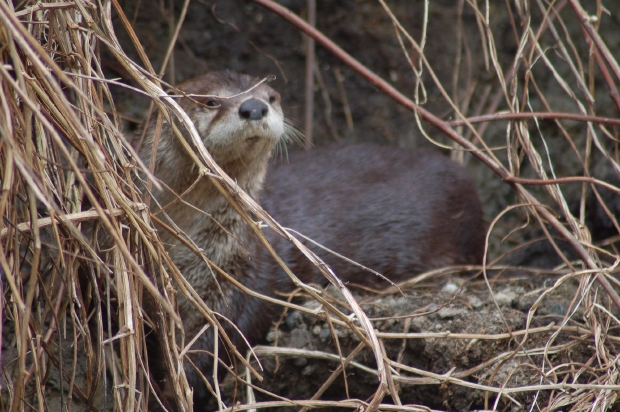 This adult female river otter — healed after almost two months of treatment — is home
Photograph by:
Wild Arc , Courtesy
A pleasant early-spring night and an outofthe-way Oak Bay beach provided the perfect backdrop for sending an otter back into the wild.
The weekend release was just the latest in a long series of successful cases overseen by the SPCA's Wild Animal Rehabilitation Centre, or Wild ARC. In this instance, an adult female river otter - healed after almost two months of treatment - was taken to a quiet spot near the Royal Victoria Yacht Club.
"Two of our rehabilitators went ahead of time to scope out the area and find a nice release spot for her," Wild ARC assistant manager Heather Schmitt said Monday. "We selected a nice, secluded cove with not too much foot and people traffic."
It was also near where the otter had been found injured under the deck of a local resident, who immediately called Wild ARC.
"For adult animals, it's really important that we release them as close as possible to where they came from," Schmitt said. "It was a gorgeous day [Sunday], which was really, really nice for her. The release went very well. We were able to take her right down to the shoreline and let her make her way through the beach area and to find a good shelter spot."
Schmitt said the otter's injuries suggested it had been attacked by another animal, although it is not known what type.
"She had some puncture wounds on her face that were actually quite severe."
There was also damage to the left eye that required extensive treatment.
At 8.6 kilograms, the otter was also underweight because the injuries had affected her ability to hunt and eat, Schmitt said. She was up to a healthy weight of 12 kilograms at the time of the release, thanks in large part to donations from the community that have been keeping up the centre's supplies of frozen fish.
Determining the age of animals like otters is difficult, Schmitt said, but some telltale signs allow for estimates.
"She did have enough wear on her teeth, which is one thing that we can look at sometimes, to say that she was definitely over about two years old."
One firm rule at Wild ARC is that no names are given to the injured animals at the centre. It's just not part of the program, Schmitt said.
"We don't name the wild animals that we have in care here because we treat them as wild patients. We're a hospital for wild patients, and we respect that about them."
Meanwhile, preparations are underway for a weekend open house at Wild ARC's 1020 Malloch Rd. headquarters in Metchosin to mark the facility's 15th anniversary.
"We'd really love people to come and see what we do," Schmitt said.
The open house will run from noon to 4 p.m. Saturday and Sunday. Visitors will see raptors and an owl, but the animals currently under treatment will not be on display.
Admission is free, but reservations are required. Call 250-478-9453 or go to wildarc.com.
jwbell@timescolonist.com
We thought you might also be interested in..